Moore cleared of charge
28th March 1996
Page 16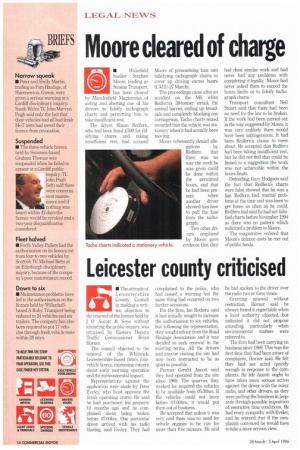 Page 16, 28th March 1996 —
Moore cleared of charge
Close
• Wakefield haulier Stephen Moore, trading as Steama Transport, has been cleared by Macclesfield Magistrates of aiding and abetting one of his drivers to falsify tachograph charts and permitting him to take insufficient rest.
The driver, Shaun Redfern, who had been fined £500 for falsifying charts and taking insufficient rest, had accused Moore of pressurising him into falsifying tachograph charts to cover up driving excess hours (CM 21-27 March).
The proceedings came after an accident on the M6, when Redfern's 38-tonner struck the central barrier, ending up broadside and completely blocking one carriageway. Tacho charts seized recorded that the vehicle was stationary when it had actually been moving.
Moore vehemently denied alle gations by Redfern that there was no way the work he was given could be done within the permitted hours, and that he had been pre sent when another driver showed him how to pull the fuse from the tachograph.
Two other drivers employed by Moore gave evidence that they had done similar work and had never had any problems with completing it legally. Moore had never asked them to exceed the hours limits or to falsify tachograph charts.
Transport consultant Neil Stuart said that there had been no need for the law to be broken. If the work had been carried out in the way suggested by Moore, it was very unlikely there would have been infringements. It had been Redfern's choice to mess about. He accepted that Redfern had been taking insufficient rest, but he did not feel that could be linked to a suggestion the work was not achievable within the hours limits.
Defending, Gary Hodgson said the fact that Redfern's charts were false showed that he was a liar. Redfern had marital problems at the time and was keen to get home as often as he could. Redfern had said he had not falsified charts before November 1994 so there was no pattern which indicated a problem to Moore.
The magistrates ordered that Moore's defence costs be met out of public funds.