Leicester county criticised
28th March 1996
Page 16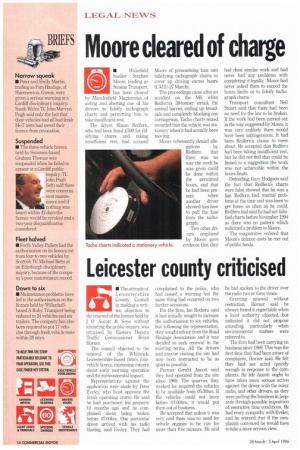 Page 16, 28th March 1996 —
Leicester county criticised
Close
• The attitude of Leicestershire County Council in making a written objection to the renewal of the licence held by J 0 Aucott & Sons without attending the public inquiry, was criticised by Eastern Deputy Traffic Commissioner Brian Horner.
The council objected to the renewal of the Whitwick, Leicestershire-based firm's fourvehicle licence, expressing concern about early morning operation and the environmental impact.
Representations against the application were made by Peter Eveley, who lived opposite the firm's operating centre. He said he had purchased his property 12 months ago and he complained about being woken before 07:00hrs. One particular driver arrived with his radio blaring, said Eveley. They had complained to the police, who had issued a warning but the same thing had occurred on two further occasions.
For the firm, Ian Rothera said it had initially sought to increase the authorisation to six vehicles, but following the representation, they sought advice from the Road Haulage Association and it was decided to seek renewal in the existing terms. All the drivers and anyone visiting the site had now been instructed to be as quiet as possible.
Partner Gerald Aucott said they had operated from the site since 1969. The quarries they worked for required the vehicles to be available from 05:30hrs. If the vehicles could not leave before 07:00hrs, it would put them out of business.
He accepted that unless it was very cold there was no need for vehicle engines to be run for more than five minutes. He said he had spoken to the driver over the radio two or three times.
Granting renewal without restriction, Homer said he always found it regrettable when a local authority objected, but indicated it did not propose attending, particularly when environmental matters were referred to.
The firm had been carrying on business since 1969. This was the first time they had been aware of complaints, Horner said. He felt they had not acted quickly enough in response to the complaints. He felt Aucott ought to have taken more serious action against the driver with the noisy radio, and other drivers, as they were putting the business in jeopardy through possible imposition of restrictive time conditions. He had every sympathy with Eveley, and he warned that if the complaints continued he would have to take a more serious view.