Champ for all reasons
28th March 1996
Page 14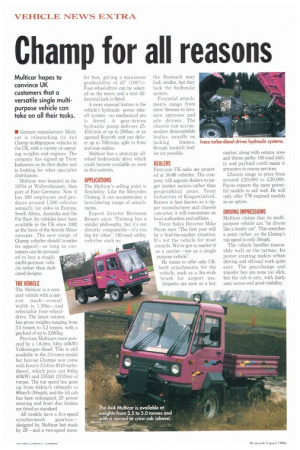 Page 14, 28th March 1996 —
Champ for all reasons
Close
Multicar hopes to convince UK customers that a versatile single multipurpose vehicle can take on all their tasks.
• German manufacturer Multicar is relaunching its 4x4 Champ multipurpose vehicles in the UK, with a variety of operating weights and engines. The company has signed up Trent Industries as its first dealer and is looking for other specialist distributors.
Multicar was founded in the 1970s at Waltershausen, then part of East Germany. Now it has 260 employees and produces around 1,500 vehicles annually for sales in Europe, South Africa, Australia and the Far East. Its vehicles have been available in the UK since 1982 as the basis of the Scarab Minor sweeper. The new range of Champ vehicles should broaden its appeal—as long as customers can be persuaded to buy a single multi-purpose vehicle rather than dedicated designs.
THE VEHICLE The Muthaw is a compact vehicle with a narrow track—overall width is 1.59m—and selectable four-wheel drive. The latest version has gross weights ranging from 3.5 tonnes to 5.2 tonnes. with a payload of up to 2,685kg.
Previous Multicars were powered by a 1.8-litre, 54hp (40kW) Volkswagen diesel. This is still available in the 3.5-tonne model but heavier Champs now come with Iveco's 2.5-litre 8140 turbodiesel, which puts out 84hp (63kW) and 1551bft (210Nm) of torque. The top speed has gone up from 64km/h (40mph) to 80km/h (50mph), and the tilt cab has been redesigned. ZF power steering and front disc brakes are fitted as standard.
All models have a five-speed
synchromesh gearbox— designed by Multicar but made by ZF—and a two-speed trans fer box, giving a maximum gradeabilityof 450 (100°0). Four-wheel-drive can be selected on the move, and a rear differential lock is fitted.
A more unusual feature is the vehicle's hydraulic power takeoff system—no mechanical pto is fitted. A gear-driven hydraulic pump delivers 25451itimin at up to 250bar, or an uprated Rexroth unit can deliver up to 701it/min, split to front and rear outlets.
Multicar has a prototype allwheel hydrostatic drive which could become available as soon as this autumn.
APPLICATIONS The Multicar's selling point is flexibility. Like the Mercedes Unimog, it can accommodate a bewildering range of attachments.
Export director Hermann Brauer says: "Unimog has a similar philosophy, but it's not directly comparable—it's too big for cities". Off-road utility vehicles such as the Bremach may look similar, but they lack the hydraulic system.
Potential attachments range from snow blowers to bitumen sprayers and pile drivers. The chassis can accommodate demountable bodies, usually on jackleg frames, though hooklift bodies are possible.
DEALERS First-year UK sales are projected at 50-80 vehicles. The company will appoint dealers to target market sectors rather than geographical areas. Trent Industries of Kingswinford. Known is best known as a tipper manufacturer and chassis converter; it will concentrate on local authorities and utilities.
Trent Sales Director Mike Payne says "The first year will be a find-the-market situation. It's not the vehicle for most councils. We've got to market it as a carrier—not as a single purpose vehicle".
He wants to offer only UKbuilt attachments for the vehicle, such as a 3m-wide brush for airport use. Airports are seen as a key market, along with estates, zoos and theme parks. Off-road ability and payload could make it attractive to rescue services.
Chassis range in price from around £20,000 to £30,000. Payne expects the more powerful models to sell well. He will only offer VW-engined models as an option.
DRIVING IMPRESSIONS
Multicar claims that its multipurpose vehicle can "be driven like a family car". This stretches a point rather, as the Champ's top speed is only 50mph.
The vehicle handles reasonably well on the tarmac. Its power steering makes urban driving and off-road work quite easy. The gearchange and transfer box are none too slick, but the cab is airy, with fairly easy access and good visibility.