Latest Cats bound for OK
28th March 1996
Page 12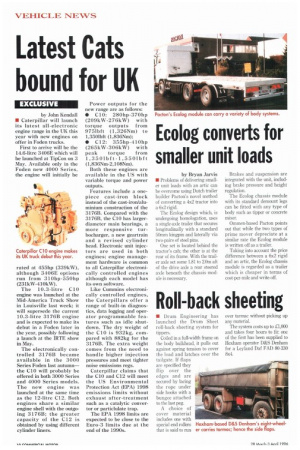 Page 12, 28th March 1996 —
Latest Cats bound for OK
Close
EXCLUSIVE
by John Kendall • Caterpillar will launch its latest all-electronic engine range in the UK this year with new engines on offer in Foden trucks.
First to arrive will be the 14.6-litre 3406E which will be launched at TipCon on 3 May. Available only in the Foden new 4000 Series, the engine will initially be rated at 455hp (339kW), although 3406E options run from 310hp-550hp (231kW-410kW).
The 10.3-litre CIO engine was launched at the Mid-America Truck Show in Louisville last week; it will supersede the current 10.3-litre 3176B engine and is expected to make its debut in a Foden later in the year, possibly following a launch at the IRTE show in May.
The electronically controlled 3I76B became available in the 3000 Series Foden last autumn— the C10 will probably be offered in both 3000 Series and 4000 Series models. The new engine was launched at the same time as the 12-litre C12. Both engines share a similar engine shell with the outgoing 3176B; the greater capacity of the C12 is obtained by using different cylinder liners. Power outputs for the new range are as follows: • C10: 280hp-370hp (209kW-276kW) with torque outputs from 9751bft (1,326Nm) to 1,3501bft (1,836Nm); • C12: 355hp-410hp (265kW-306kW) with peak torque from 1,35 Olbft-1,55 Olbft (I,836Nm-2,108Nm).
Both these engines are available in the US with variable torque and power outputs.
Features include a onepiece cast-iron block instead of the cast-iron/aluminium construction of the 3176B. Compared with the 3176B, the C10 has largerdiameter main bearings, a more responsive turbocharger, a new geartrain and a revised cylinder head. Electronic unit injectors are used in both engines; engine management hardware is common to all Caterpillar electronically controlled engines although each model has its own software.
Like Cummins electronically controlled engines, the Caterpillars offer a range of built-in diagnostics, data logging and operator programmable features such as idle shutdown. The dry weight of the C10 is 932kg, compared with 882kg for the 3176B. The extra weight comes from the need to handle higher injection pressures and meet tighter noise emissions regs.
Caterpillar claims that the CIO and C12 will meet the US Environmental Protection Act (EPA) 1998 emissions limits without exhaust after-treatment such as a catalytic convertor or particlulate trap.
The EPA 1998 limits are expected to be close to the Euro-3 limits due at the end of the 1990s.