Ecolog converts for smaller unit loads
28th March 1996
Page 12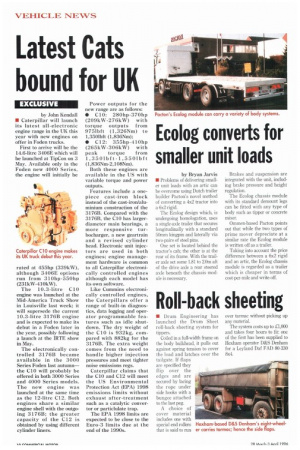 Page 12, 28th March 1996 —
Ecolog converts for smaller unit loads
Close
by Bryan Jarvis • Problems of delivering smaller unit loads with an artic can be overcome using Dutch trailer builder Pacton's novel method of converting a 4x2 tractor into a 6x2 rigid.
The Ecolog design which, is undergoing homologation, uses a single-axle trailer that secures longitudinally with a standard 50mm kingpin and laterally via two pairs of steel pins.
One set is located behind the tractor's cab; the other is at the rear of its frame. With the trailer axle set some 1.81 to 2.0m aft of the drive axle a rear steered axle beneath the chassis module is necessary.
Brakes and suspension are integrated with the unit, including brake pressure and height regulation.
The Ecolog chassis module with its standard demount legs can be fitted with any type of body such as tipper or concrete mixer.
Ommen-based Pacton points out that while the two types of prime mover depreciate at a similar rate the Ecolog module is written off as a trailer.
Taking into account the price difference between a 6x2 rigid and an artic, the Ecolog chassis module is regarded as a trailer which is cheaper in terms of cost-per-mile and write-off.