Fertiliser bomb : 0 risks highlighted hPttr t r : by Lee Kimber •
28th March 1996
Page 10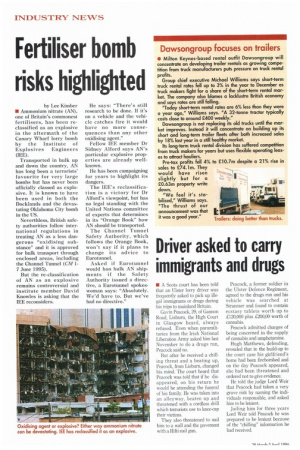 Page 10, 28th March 1996 —
Fertiliser bomb : 0 risks highlighted hPttr t r : by Lee Kimber •
Close
Ammonium nitrate (AN), one of Britain's commonest fertilisers, has been reclassified as an explosive in the aftermath of the Canary Wharf lorry bomb by the Institute of Explosives Engineers (IEE).
Transported in bulk up and down the country, AN has long been a terrorists' favourite for very large bombs but has never been officially classed as explosive. It is known to have been used in both the Docklands and the devastating Oklahoma City bomb in the US.
Neverthless, British safety authorities follow international regulations in treating AN as a less dangerous "oxidising substance" and it is approved for bulk transport through enclosed areas, including the Channel Tunnel (CM 17 June 1995).
But the re-classification of AN as an explosive remains controversial and institute member David Knowles is asking that the LEE reconsiders. He says: "There's still research to be done. If it's on a vehicle and the vehicle catches fire it would have no more consequences than any other oxidising agent."
Fellow IEE member Dr Sidney Alford says AN's particular explosive properties are already wellknown.
He has been campaigning for years to highlight its dangers.
The IEE's reclassification is a victory for Dr Alford's viewpoint, but has no legal standing with the United Nations committee of experts that determines in its "Orange Book" how AN should be transported.
The Channel Tunnel Safety Authority, which follows the Orange Book, won't say if it plans to change its advice to Eurotunnel.
Asked if Eurotunnel would ban bulk AN shipments if the Safety Authority issued a directive, a Eurotunnel spokeswoman says: "Absolutely. We'd have to. But we've had no directive."