The Formula
28th March 1958
Page 71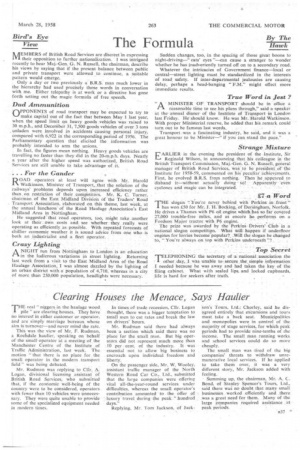 Page 71, 28th March 1958 —
The Formula
Close
VTEMBERS of British Road Services are discreet in expressing IV' their opposition to further nationalization. I was intrigued recently to hear Maj.-Gen. G. N. Russell, the chairman, describe his views by saying that if the present balance between public and private transport were allowed to continue, a suitable pattern would emerge.
Only a day or two previously a B.R.S. man much lower in the hierarchy had used precisely those words in conversation with me. Either telepathy is at work or a directive has gone forth setting out the magic formula of free speech.
Dud Ammunition
OPPONENTS of road transport may be expected to try to make capital out of the fact that between May 1 last year, when the speed limit on heavy goods vehicles was raised to 30 m.p.h.) and Decernber 31, 7,500 goods vehicles of over 3 tons , unladen were involved in accidents causing personal injury, compared with 6,922 in the corresponding period of 1956. The Parliamentary question that elicited the information was probably intended to arm the unions.
In fact, the figures mean nothing. Heavy goods vehicles are travelling no fasterthan they did in the 20-m.p.h. days. Nearly a year after the higher speed was authorized, British Road Services are still unable to take advantage of it.
. . . For the Gander D OAD operators at least will agree with Mr. Harold
Watkinson, Minister of Transport, .that the solution of the railways' problems depends upon increased efficiency rather than . on restriction .of their conqietitat.s. Mr. K. C. Turner. chairman of the East Midland Division of the Traders' Road Transport. Association, elaborated on this theme, last week, at the annual luncheon of the Road Haufage Association's East Midland Area in Nottingham.
He• suggested that road operators, too, might take another look at their :_own :costs and. see whether they really, were operating as efficiently..as possible. With repeated forecasts of chillier economic weather it is sound advice from one who is both an industrialist and a fleet operator.•
Crazy Lighting •
ANIGHT run from Nottingham to London is an education in the ludicrous 'variations in Street lighting. Returning last week from a visit to the East -Midland Area of the Road Haulage Association, I was alhaost dazzled by the lighting of an urban district with a population of 4,716, whereas in a city Of more than 250,000 population, headlights were necessary.
Sudden changes, too, in the spacing of those great boons to night-driving—" cats' eyes "—can cause a stranger to wonder whether he has inadvertently turned off on to a secondary road.
Whatever the intricacies of Government finance—local or central—street lighting must be standardized in the interests of road_ safety. If inter-departmental jealousies are causing delay, perhaps a head-banging " F.M." might effect more immediate results.
True Word in Jest ?
-A MINISTER OF TRANSPORT should be in office a reasonable time to see his plans through," said a speaker at the annual dinner of the Institute of Transport in London last Friday. He' should know. He was Mr. Harold Watkinson. With proper Ministerial reserve, he added that hiS.remark could turn out to be famous last words.
Transport was a fascinating industry, he said, and it was a great honour to be Minister—" if you can stand the pace."
Strange Mixture
EARLIER in the evening the president of the Institute, Sir I—, Reginald Wilson, in announcing that his colleague in the British Transport Commission, Maj.-Gen. G. N. Russell, general manager of British Road Services, was to be president of the Institute for 1958-59, commented on his' peculiar'achievements. First, he evolved B.R.S. from nothing. Then be ,appea red to disband it—without actually doing Sal . 'Apparently • even
cychmes and magic can be integrated.
7 -a Word _
'THE sloga:n '!You're never behind with Perkins in front" 1. has won £50 for Mr. I. H. Backing, of Dersingham, Norfolk. He drives a Thames with P6 oil engine which has so far covered 27,000 trouble-free miles. and as encore he. performs on a
Fordson Major tractor with P6 eogine. . .
The prize was awarded by the -Perkins Drivers' Club in a natianal slogan competition. What will happen if underftoor engines for lorries become popular?. Mill the slogan he changed to, "You're always on top with Perkins underneath '"?
Top Secret
TELEPHONING the secretary of -a nationaLassociation the 1 other .day, Was unable tosectire the simple infarmation I needed because he was away and had taken the key of the filing cabinet. What with sealed lips and locked cupboards, life is hard for seekers after truth.