Shutters Designed for Pallet Loading
28th March 1958
Page 56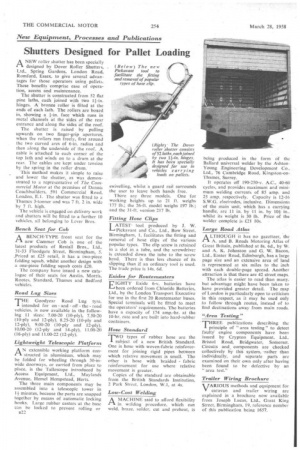 Page 56, 28th March 1958 —
Shutters Designed for Pallet Loading
Close
ANEW roller shutter has been specially designed by Dover Roller Shutters, Ltd., Spring Gardens, London Road, Romford, Essex, to give several advantages for those operators using pallets. These benefits comprise ease of operation, access and maintenance.
The shutter is constructed from 52 flat pine laths, each joined with two 11-in. hinges. A bronze roller is fitted at the ends of each lath. The rollers are boxed in, showing a +-in. face which runs in metal channels at the sides of the rear entrance and along the sides of the roof.
The shutter is raised by pulling upwards on two finger-grip apertures, when the rollers run freely, first around the two curved arcs of 6-in, radius and then along the underside of the roof. A cable is attached to each corner of the top lath and winds on to a drum at the rear. The cables are kept under tension by the spring in the roller drum.
This method makes it simple to raise and lower the shutter, as was demonstrated to a representative of The Commercial Motor at the premises of Dennis Coachbuilders, 591 Commercial Road, London, El. The shutter was fitted to a Thames 3-tonner and was 7 ft. 2 in. wide by 7 ft. high.
The vehicle is engaged on delivery work and shutters will be fitted to a further 10 vehicles, all belonging to Lever Bros.
Bench Seat for Cob ABENCH-TYPE front seat for the new Commer Cob is one of the latest products of Restall Bros., Ltd.. 31-33 Floodgate Street, Birmingham, 5. _Priced at £25 retail, it has a two-piece folding squab, whilst another design with a one-piece folding squab costs £20.
The company have issued a new catalogue of their seats for Austin, Morris, Rootes, Standard. Thames and Bedford vehicles.
Road Lug Sizes THE Goodyear Road Lug tyre, intended for on and off the road vehicles, is now available in the following 11 sizes: 7.00-20 (10-ply), 7.50-20 (10-ply and 12-ply), 8.25-20 (10-ply and 12-ply), 9.00-20 (10-ply and 12-ply), 10.00-20 (12-ply and 14-ply), 11.00-20 (16-ply) and 11.00-22 (12-ply).
Lightweight Telescopic Platform AN extensible working platform constructed in aluminium, which may be folded for wheeling through 30-inwide doorways, or carried from place to place, is the Tallescope introduced by Access Equipment, Ltd., Maylands Avenue, Hemel Hempstead, Herts.
The three main components may be assembled into a telescopic tower in 1+ minutes, because the parts are snapped together by means of automatic locking hooks. Large rubber casters at the base can be locked to prevent rolling or B22 swivelling, whilst a guard rail surrounds the user to leave both hands free.
There are three models. One for working heights up to 21 ft. weighs 177 lb.; the 26-ft. model weighs 197 lb.; and the 3I-ft. version 217 lb.
Fitting Hose Clips LATEST . tool produced by J. W. Pickavant and Co., Ltd., Bow Street, Birmingham, I, facilitates the fitting and removal of hose clips of the various popular types. The clip screw is retained in a slot in a tube, and the screwdriver is extended down the tube to the screw head. There is thus less chance of its slipping than if an ordinary tool is used. The trade price is 14s. 6d.
Exides for Routemasters EIGHTY Exide 6-v. batteries have 1-4been ordered from Chloride Batteries, Ltd., by the London Transport Executive for use in the first 20 Routemaster buses. Special terminals will be fitted to meet the operators' requirements. The batteries have a capacity of 174 amp.-hr. at the 10-hr. rate and are built into hard-rubber containers, Hose Standard TWO types of rubber hose are the subject of a new British Standard. One is hose with woven-fabric reinforcement for joining rigid pipes between which relative movement is small. The other is hose with braided fabric reinforcement for use where relative movement is greater.
Copies of the standard are obtainable from the British Standards Institution, 2 Park Street, London, W.1, at 4s.
Low-Cost Welding AMACHINE said to afford flexibility in welding procedure, which can weld, braze, solder, cut and preheat, is
being produced in the form of the Ballard universal welder by the AshtonYoung Engineering Development Co.. Ltd., 76 Cambridge Road, Kingston-onThames, Surrey.
It operates off 190-250-v. A.C, 40-60 cycles, and provides maximum and minimum welding currents of 85 amp. and 25 amp. respectively. Capacity is 12-16 S.W.G. electrodes, inclusive. Dimensions of the main unit, which has a carrying handle, are 11 in. by 11 in. by 10+ in.. whilst its weight is 30 lb. Price of the welder complete is 121 10s.
Large Road Atlas A LTHOUGH it has no gazetteer, the A. and B. Roads Motoring Atlas of Great Britain, published at 8s. 6d., by W. and A. K. Johnston and G. W. Bacon, Ltd., Easter Road, Edinburgh, has a large page size and an extensive area of land is represented at six miles to the inch with each double-page spread. Another attraction is that there are 42 street maps.
The atlas is easier to read than many, but advantage might have been taken to have provided greater detail. The map of London is particularly open to criticism in this respect, as it may be used only to follow through routes, instead of to find destinations away from main roads.
"Area Testing"
THREE publications describing the
principle of "area testing" to detect faulty engine components have been issued by Crypton Equipment, Ltd.. Bristol Road, Bridgwater, Somerset. Circuits and components are checked collectively by this system, -rather than individually, and separate parts are examined on their own only after having been found to be defective by an " area test."
Trailer Wiring Brochure VARIOUS methods and equipment for caravan and trailer wiring are explained in a brochure now available from Joseph Lucas, Ltd., Great King Street, Birmingham, 19. reference number of this publication being 1657.