B.R.S. Tell of Cut Rates in Aberdeen Area " B.R. Threatened to Stop My Witness"
28th March 1958
Page 49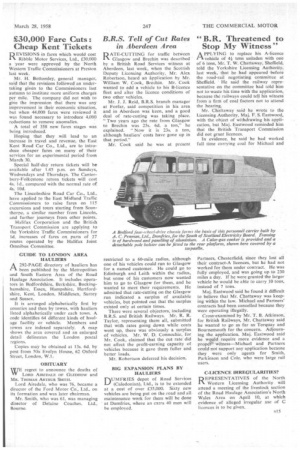 Page 49, 28th March 1958 —
B.R.S. Tell of Cut Rates in Aberdeen Area " B.R. Threatened to Stop My Witness"
Close
D ATE-CUTTING for traffic between
Glasgow and Brechin was described by a British Road Services witness at Aberdeen, last week, when the Scottish Deputy Licensing Authority, Mr. Alex Robertson, heard an application by Mr. William W. Cook, Brechin. Mr. Cook wanted to add a vehicle to his B-licence fleet and alter the licence conditions of two other vehicles.
Mr. J. J. Reid, B.R.S. branch manager at Forfar, said competition in his area, and in Aberdeen was keen, and a good deal of rate-cutting was taking place. "Two years ago the rate from Glasgow to Brechin was 25s. 6d. a ton," he explained. "Now it is 23s. a ton, although hauliers' costs have gone up in that period," Mr. Cook said he was at present restricted to a 60-mile radius, although one of his vehicles could run to Glasgow for a named customer. He could go to Edinburgh and Leith within the radius, but some of his customers now wanted him to go to Glasgow for them, and he wanted to meet their requirements. He admitted that rate-cutting on the Glasgow run indicated a surplus of available vehicles, but pointed out that the surplus existed only at certain times.
There were several objectors, including B.R.S. and British Railways. Mr. R. R. Taylor, representing them all, submitted that with rates going down while costs went up, there was obviously a surplus of vehicles. Mr. W. D. Connochie, for Mr. Cook, claimed that the cut rate did not affect the profit-earning capacity of vehicles because it gave them fuller and better loads.
Mr. Robertson deferred his decision.
BIG EXPANSION PLANS BY HAULIERS
nUMFRIES depot of Road Services 1--1 (Caledonian), Ltd., is to be extended at a cost of over £35,000. Sixty new vehicles are being put on the road and all maintenance work for them will be done at Dumfries, where an extra 40 men will be employed. APPLY1NG to replace his A-licence vehicle of 41 torts unladen with one of 6 tons, Mr. T. W. Chattaway, Sheffield, told the Yorkshire Licensing Authority, last week, that he had appeared 'before the road-rail negotiating committee at 'Sheffield. He said the railway representative on the committee had told him not to waste his time with the application, because the railways could tell his witness from a firm of coal factors not to attend the hearing,
Mr. Chattaway said he wrote to the Licensing Authority, Maj. F. S. Eastwood, with the object of withdrawing his application, but Maj. Eastwood reminded him that the British Transport Commission did not grant licences.
in evidence, he said he had worked full time carrying coal for Michael and Partners, Chesterfield, since they lost all their contract-A licences, but he had not worked for them under contract. He was fully employed, and was going up to 230 miles a day. If he were granted the larger vehicle he would be able to carry 10 tons, instead of 7 tons.
Maj. Eastwood said he found it difficult to believe that Mr. Chattaway was keeping within the law. Michael and Partners' contracts had been cancelled because they were operating illegally.
Cross-examined by Mr. T. B. Atkinson, for British Railways, Mr. Chattaway said he wanted to go as far as Torquay and Bournemouth for the concern. Adjourning the application, Maj. Eastwood said he would require more evidence and a properwitness—Michael and Partners could not support any application because they were only agents for Smith, Parkinson and Cole, who were large rail users.
C-LICENCE IRREGULARITIES?
REPRESENTATIVES of the North Western Licensing Authority will attend a meeting of the livestock section of the Road Haulage Association's North Wales Area on April 1.0, at which evidence of alleged irregular use of C licences is to be given.