Recorder Figures Accepted as Evidence of Loadings
28th March 1958
Page 42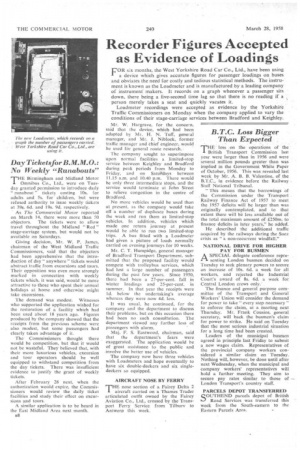 Page 42, 28th March 1958 —
Recorder Figures Accepted as Evidence of Loadings
Close
FOR six months, the West Yorkshire Road Car Co., Ltd., have been using a device which gives accurate figures for passenger loadings on buses and obviates the need for costly and tedious statistical methods. The instrument is known as the Loadmeter and is manufactured by a leading company of instrument makers. It records on a graph whenever a passenger sits down, there being a five-second time lag so that there is no reading if a person merely takes a seat and quickly vacates it.
Loadmeier recordings were accepted as evidence by the Yorkshire Traffic Commissioners on Monday when the company applied to vary the conditions of their stage-carriage services between Bradford and Keighley.
Mr. W. Hargrave. for the concern, said that the device, which had been adapted by Mr. H. N. Tuff, general manager, and Mr. J. Niblock, former traffic manager and thief engineer, would be used for general route research..
The company sought to superimpose upon normal facilities a limited-stop service between Keighley and Bradford during peak periods from Monday to Friday, and on Satufdays between 11.15 a.m. and 10.40 p.m. There would be only three intermediate stops, and the service would terminate at John Street to relieve congestion in the centre of Bradford.
No more vehicles would be used than at present, as the company would take off a number of duplicate buses during the week and run them as limited-stop vehicles. In addition, vehicles which made one return journey at present would be able to run two limited-stop trips. A bus fitted with a Loadmeter had given a picture of loads normally carried on evening journeys for 10 weeks.
Mr. C. T. Humpidge, general manager of Bradford Transport Department, submitted that the proposed facility would compete with trolleybus services, which had lost a large number of passengers during the past few years. Since 1950, there had been a 27-per-cent. fall in winter loadings and 25-per-cent. in summer. In that year the receipts were ld. below the undertaking's average whereas they were now 4d. less.
It was usual, he continued, for the company and the department to discuss their problems, but on this occasion there had been no such consultation. The department viewed any further loss of passengers with alarm.
Maj. F. S. Eastwood, chairman, said that the department's fears were exaggerated. The application would be of great assistance to the public and involve the better use of vehicles.
The company now have three vehicles with Loadmeters and hope eventually to have six double-deckers and six singledeckers so equipped.
AIRCRAFT NOSE BY FERRY
THE nose section of a Fairey Delta 2 aircraft carried on a Thames Trader articulated outfit owned by the Fairey Aviation Co., Ltd., crossed by the Transport Ferry Service from Tilbury to Antwerp this week.
B.T.C. Loss Bigger Than Expected
loss .on the operations of the
British .Transport Commission last year were larger than in 1956 and were several million pounds greater than was implied in the Government White Paper of October, 1956. This was revealed last week by Mr. A. B. B. Valentine, a the B.T.C., in evidence before the Railway Staff National Tribunal.
"This means that the borrowings of the Commission under the Transport Railway Finance Act of 1957 to meet the 1957 deficits will be larger than was originally contemplated, and to that extent there will be less available out of the total maximum amount of £250rm to finance deficits in later years,he added.
He described the additional traffic acquired by the railways during the Suez crisis as " a non-recurrent windfall."
NATIONAL DRIVE FOR HIGHER PAY FOR BUSMEN
ASPECIAL delegate conference represmiting Loudon busmen decided on Tuesday to seek plenary powers to secure an increase of 10s. 6d. a week for all workers, and rejected the Industrial Court's award of 8s. 6d: a week for Central London crews only.'
The finance and general purpose committee of the Transport and General Workers' Union will consider the demand for power to take " every step necessary" to enforce the claim, at a meeting next Thursday. Mr. Frank Cousins, general secretary, wilt back the busmen's claim for power to strike. He said on Tuesday that the most serious industrial situation for a long time had been created.
Leaders of the municipal busmen agreed in principle last Friday to submit a new wages claim. Representatives of the provincial company workers considered a similar claim on Tuesday. Nothing will, however, be done until after next Wednesday, when the municipal and company workers' representatives will hold a further meeting. They aim to secure pay rates similar to those of London Transport's country staff.
PARCELS DEPOT TRANSFERRED QOUTHEND parcels depot of British L) Road Services was transferred this week from the South-eastern to the Eastern Parcels Area.