One Hears
28th March 1958
Page 41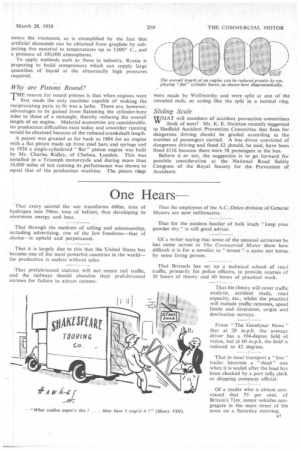 Page 41, 28th March 1958 —
One Hears
Close
That every second the sun transforms 600m, forts of hydrogen into 596m. tons of helium, thus developing its enormous energy and heat.
That through the medium of selling and salesmanship, including advertising, one of the few freedoms—that of choice—is upheld and perpetuated.
That it is largely due to this that the United States has become one of the most powerful countries in the world— for production is useless without sales.
That prefabricated stations will not create rail traffic, and the railways should abandon their prefabricated excuses for failure to attract custom. That the employees of the A.C.-Delco division of General Motors are now millionaires.
That for the modern haulier of bulk loads "keep your powder dry" is still good advice.
Of a writer saying that some of the unusual surnames he has come across in The Cotnnwrcial Motor show how difficult it is for a novelist to " invent " a name not borne by some living person.
That Brussels has set up a technical school of road traffic, primarily for, police officers, to provide courses of 30 hours of theory and 40 hours of practical work.
That the theory will cover traffic analysis, accident study, road capacity, etc., whilst the practical will include traffic censuses, speed limits and diversions, origin and destination surveys.
From The Goodyear News" that at 20 m.p.h. the average driver has a 104-degree field ot vision, but at 60 m.p.h. the field is reduced to 42 degrees.
That in meat transport a "live " trailer becomes a " dead " one when it is sealed after the load has been checked by a port tally clerk or shipping company official.