Credit Where Due
28th March 1958
Page 40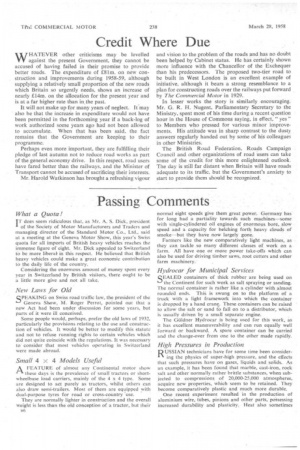 Page 40, 28th March 1958 —
Credit Where Due
Close
WHATEVER other criticisms may be levelled against the present Government, they cannot be accused of having failed in their promise to provide better roads. The expenditure of £81m. on new construction and improvements during 1958-59, although supplying a relatively small proportion of the new roads which Britain so urgently needs, shows an increase of nearly £14m. on the allocation for the present year and is at a far higher rate than in, the past.
It will not make up for many years of neglect. It may also be that the increase in expenditure would not have been permitted in the forthcoming year if a back-log of work authorized some years ago had not been allowed to accumulate. When that has been said, the fact remains that the Government are keeping to their programme.
Perhaps even more important, they are fulfilling their pledge of last autumn not to reduce road works as part of the general economy drive. In this respect, road users have fared better than the railways, and the Minister of Transport cannot be accused of sacrificing their interests.
Mr. Harold Watkinson has brought a refreshing vigour and vision to the problem of the roads and has no doubt been helped by Cabinet status. He has certainly shown more influence with the Chancellor of the Exchequer than his predecessors. The proposed two-tier road to be built in West London is an excellent example of initiative, although it bears a strong resemblance to a plan for constructing roads over the railways put forward by The Commercial Motor in 1929.
In lesser works the story is similarly encouraging. Mr. G. R. H. Nugent, Parliamentary Secretary to the Ministry, spent most of his time during a recent question hour in the House of Commons saying, in effect, " yes " to Members who pressed for various minor improvements. His attitude was in sharp contrast to the dusty answers regularly handed out by some of his colleagues in other Ministries.
The British Road Federation, Roads Campaign Council and other organizations of road users can take some of the credit for this more enlightened outlook. The day is still far distant when Britain will have roads adequate to its traffic, but the Government's anxiety to start to provide them should be recognized.