Correspondence.
28th March 1907
Page 18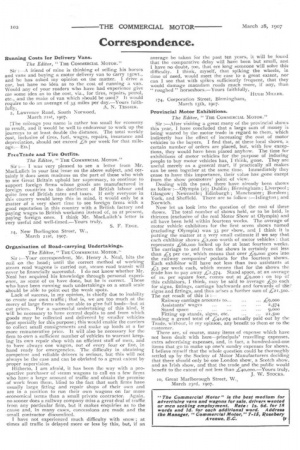 Page 18, 28th March 1907 —
Correspondence.
Close
Running Costs for Delivery Vans.
The Editor, "THE COMMERCIAL MOTOR."
Sir :—A friend of mine is thinking of selling his horses and vans and buying a motor delivery van to carry tscwt., and he has asked my opinion on the matter. 1 drive a car, but have no idea as to the cost of running a van. Would any of your readers who have had experience give me some idea as to the cost, viz., for tires, repairs, petrol, etc., and the make of van which should be used? It would require to do an average of 35 miles per day.—Yours faith fully, A. N. TESSIER. 2, Lawrence Road, South Norwood, March 21st, 1907.
[The mileage you name is rather too small for economy to result, and it would be well to endeavour to work up the journeys to at least double the distance. The total weekly cost, inclusive of tires, fuel, wages, repairs, insurance and depreciation, should not exceed .4:6 per week for that mileage.ED.] rreeTrade and Tire Outfits.
The Editor, " THE COMMERCIAL MOTOR."
Sir :— I was very pleased to see a letter from Mr. MacLulich in your last issue on the above subject, and certainly it does seem madness on the part of those who wish to see Great Britain uphold her supremacy, to continue to support foreign firms whose goods are manufactured in foreign countries to the detriment of British labour and quite free of British rates and taxes. If only everyone in this country would keep this in mind, it would only be a matter of a very short time to see foreign firms with a good reputation in this country with a British factory and paying wages to British workmen instead of, as at present, paying foreign ones. I think Mr. MacLulich's letter is very useful and well-timed.—Yours truly,
S. F. EDGE, 14, New Burlington Street, W., March 21st, 1907.
Organisation of Road-carrying Undertakings.
The Editor, "THE COMMERCIAL MOTOR."
Sir :—Your correspondent, Mr. Henry A. Neal, hits the nail on the head; until the correct method of working Steam road wagons is carried out, steam road transit will never be financially successful. I do not know whether Mr. Neal has acquired his knowledge through personal experienc.e, as some of us have done, but he is correct. Those who have been running such undertakings on a small scale .should be able to point out the weak spots. Lack of success, in my opinion, is chiefly due to inability to create Our Own traffic; that is, we are too much at the mercy of large firms who are able to give full loads—but at 'cut prices. For a successful undertaking of this kind, it will be necessary to have central depots to and from which goods may be collected and delivered by smaller vehicles kept specially for this purpose; this would enable the carriers to collect small consignments and make up loads at a far more remunerative price. It will also be necessary for the firm to own a sufficient number of vehicles to warrant keeping its own repair shop with an efficient staff of men, and to have always one wagon, out of every four or five, in hand ready for emergencies. The difficulty in obtaining competent and reliable drivers is serious, but this will not always be the case and can be obviated to a great extent by proper supervision.
Hitherto, I am afraid, it has been the way with a prospective purchaser of steam wagons to call on a few firms who have a large amount of traffic and obtain the promise of work from them, blind to the fact that such firms have usually large fitting and repair shops of their own and are in a position to run their own wagons on far more .economical terms than a small private contractor. Again, no sooner does a railway company miss a great deal of traffic from any particular firm, but it makes enquiries as to the cause and, in many cases, concessions are made and the .small contractor discomfited.
I have not experienced much difficulty with snow ; at 'times all traffic is delayed more or less by this, but, if an
average be taken for the past ten years, it will be found that the comparative delay will have been but small, and 1 have no doubt, too, that ere long someone will solve this difficulty. I think, myself, that spiking the wheels, in time of need, would meet the case to a great extent, nor can I see that with spikes sufficiently frequent, that they would damage macadam roads much more, if any, than " roughed " horseshoes.—Yours faithfully,
HUGH MTLLER.
174, Corporation Street, Birmingham, March 15th, 1907.
Provincial Motor Exhibitions.
The Editor, " THE COMMERCIAL MOTOR."
Sir :—After visiting a great many of the provincial shows this year, 1 have concluded that a large sum of money is being wasted by the motor trade in regard to them, which indirectly has the effect of increasing the cost of motor vehicles to the buyers. I find that, at these local shows, a certain number of orders are placed, but, with few exceptions, they would have been placed anyhow. The time for exhibitions of motor vehicles for the purpose of inducing people to buy motor vehicles has, I think, gone. They are useful merely as a general mart, if practically all makes can be seen together at the same time. Immediately they cease to have this importance, their value has gone except from the show promoters' point of view.
Dealing with the past, there have already been shows as follow :—Olympia (2); Dublin; Birmingham; Liverpool; Glasgow; Newcastle; Edinburgh ; Manchester; Burslem; York, and Sheffield. There are to follow :—Islington ; and Norwich.
Now let us look into the question of the cost of these shows. The total number of shows held, or to be held, is thirteen (exclusive of the real Motor Show at Olympia) and all have been held within fourteen weeks. The average of motor vehicle exhibitors for the first seven shows named (excluding Olympia) was 33 per show, and I think it is putting the matter at a very small estimate if we say that each exhibitor shows .4.2,000 worth of motor vehicles : that represents ..66,000 locked up for at least fourteen weeks. The carriage to and from the shows is certainly not less than per car, which means that over 4.9,000 goes into the railway companies' pockets for the fourteen shows. Each exhibitor will have not less than two .assistants at per week each, which means that for the shows the trade has to pay away .4-2,574. Stand space, -at an average of is. per square foot, comes out at £9,000: on top of this exhibitors, I think, may be said to average ,4;5o, each for signs, fittings, carriage backwards and forwards of the signs and fittings, and thus arises a further sum of.21,5oo. The net result of this is :
Railway carriage amounts to...
Assistants' wages ... 2,574
Stand space 9,000 Fitting up stands, signs, etc. ... 21,500
making a grand total of 4'42,074 actually paid out by the Trade, without, in my opinion, any benefit to them or to the customer.
There are, of course, many items of expense which have not been dealt with here—principals' travelling expenses, extra advertising expenses, and, in fact, a hundred-and-one items that go to make up one's sundry expenses for shows. I believe myself that the whole question could be thoroughly settled up by the Society of Motor Manufacturers deciding that there should only be one London show, a Scotch show, and an Irish show, and that the trade and the public would benefit to the extent of not less than .4.4o,000.—Yours truly, J. W. STOCKS. ID, Great Marlborough Street, W., .13,000
March 23rd, 1937.