Lost in the system...
28th June 2001
Page 8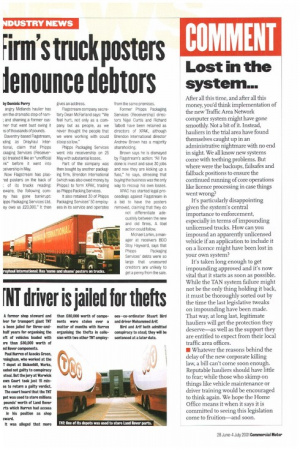 Page 8, 28th June 2001 —
Lost in the system...
Close
After all this time, and after all this money, you'd think implementation of the new Traffic Area Network computer system might have gone smoothly. Not a bit of it. Instead, hauliers in the trial area have found themselves caught up in an administrative nightmare with no end in sight We all know new systems come with teething problems. But where were the backups, failsafes and fallback positions to ensure the continued running of core operations like licence processing in case things went wrong?
It's particularly disappointing given the system's central importance to enforcement, especially in terms of impounding unlicensed trucks. How can you impound an apparently unlicensed vehicle if an application to include it on a licence might have been lost in your own system?
It's taken long enough to get impounding approved and it's now vital that it starts as soon as possible. While the TAN system failure might not be the only thing holding it back, it must be thoroughly sorted out by the time the last legislative tweaks on impounding have been made. That way, at long last, legitimate hauliers will get the protection they deserve—as well as the support they are entitled to expect from their local traffic area offices.
• Whatever the reasons behind the delay of the new corporate killing law, a bill can't come soon enou Reputable hauliers should have little to fear; while those who skimp on things like vehicle maintenance or driver training would be encouraged to think again. We hope the Home Office means it when it says it is committed to seeing this legislation come to fruition—and soon.