Firm's truck posters lenounce debtors
28th June 2001
Page 8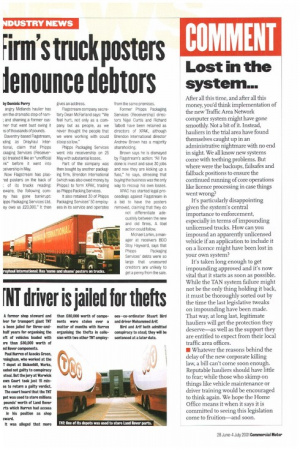 Page 8, 28th June 2001 —
Firm's truck posters lenounce debtors
Close
by Dominic Perry angry Midlands haulier has cen the dramatic step of ranand shaming a former cusber that went bust owing it is of thousands of pounds. Daventry-based Flagstream, iding as Drayhaul Interbona!, claim that Phipps ckaging Services (Receiverip) treated it like an "unofficial nk" before it went into 3eivership in May.
Now Flagstream has plas-ed posters on the back of
of its trucks reading: eware, the following comny has gone bankrupt: ipps Packaging Services Ltd. ey owe us 220,000." It then gives an address.
Flagstream company secretary Dean McFarland says: "We feel hurt, not only as a company but as people, as we never thought the people that we were working with could stoop so low."
Phipps Packaging Services went into receivership on 25 May with substantial losses.
Part of the company was then bought by another packaging firm, Brendon International (which was also owed money by Phipps) to form XPAK, trading as Phipps Packing Services.
It also retained 30 of Phipps Packaging Services' 50 employees in its service and operates from the same premises.
Former Phipps Packaging Services (Receivership) directors Nigel Curtis and Richard Talbott have been retained as directors of XPAK, although Brendan International director Andrew Brown has a majority shareholding.
Brown says he is dismayed by Flagstream's action: "All I've done is invest and save 30 jobs and now they are kicking up a fuss," he says, stressing that buying the business was the only way to recoup his own losses.
XPAC has started legal proceedings against Flagstream in a bid to have the posters removed, claiming that they do not differentiate adequately between the new and old firms. A libel action could follow.
Michael Larkin, a manager at receivers BDO Stay Hayward, says that Phipps Packaging Services' debts were so large that unsecured creditors are unlikely to get a penny from the sale,