Dutch cracking down on flagged-out firms
28th June 2001
Page 7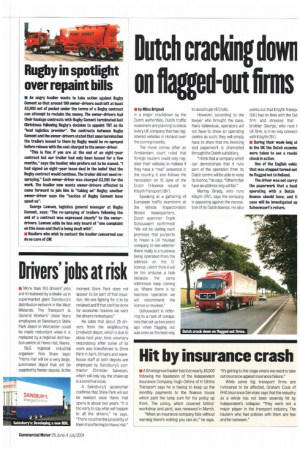 Page 7, 28th June 2001 —
Dutch cracking down on flagged-out firms
Close
• by Iesflrignall
In a major crackdown by the Dutch authorities, Dutch traffic examiners are planning to check every UK company that has registered vehicles in Holland over the coming months.
The move comes after an Amsterdam court ruled that foreign hauliers could only register their vehicles in Holland if they have a "real" presence in the country. It also follows the revocation on 13 June of the Dutch 0-licence issued to Kilsyth Transport (By).
Speaking at a gathering of European traffic examiners at the Vehicle Inspectorate's Bristol headquarters, Dutch examiner Frank Schouwaert confirmed: 'We will be visiting each premises that purports to house a UK haulage company to see whether there really is a business being operated from the address on the 0licence. I don't think it will be too arduous a task because the same addresses keep coming up. Where there is no business operation we will recommend the licence is revoked."
Schouwaert is referring to a rash of companies that set up two years ago when flagging out was seen as the best way to avoid huge VED bills.