NEW SITES
28th June 2001
Page 55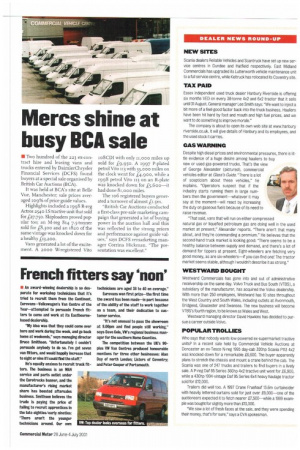 Page 55, 28th June 2001 —
NEW SITES
Close
Scania dealers Reliable Vehicles and Scantruck have set up new service centres in Dundee and Hatfield respectively. East Midland Commercials has upgraded its Lutterworth vehicle maintenance unit to a full service centre, while Keltruck has relocated its Coventry site.
TAX PAID Essex !ndependent used truck dealer Hanbury Riverside is offering six months VED on every 38-tonne 4x2 and 6x2 tractor that it sells until 31 August. General manager Lee Smith says: "We want to inject a bit more of a feel-good factor back into the truck business. Hauliers have been hit hard by foot and mouth and high fuel prices, and we want to do something to improve morale."
The company is about to open its own web site at www.hanbury riverside.co.uk. It will give details of Hanbury and its employees, and the used stock it carries.
GAS WARNING Despite high diesel prices and environmental pressures, there is little evidence of a huge desire among hauliers to buy new or used gas-powered trucks. That's the view of George Alexander (pictured), commercial vehicles editor at Glass's Guide. "There is a lot of scepticism about these vehicles," he explains. "Operators suspect that if the industry starts running them in large numbers then the government—whatever it may say at the moment—will react by increasing the duty on gaseous fuels because of its need to raise revenue.
"That said, vans that will run on either compressed natural gas or liquefied petroleum gas are doing well in the used market at present," Alexander reports. "There aren't that many about, and they're commanding a premium." He believes that the second-hand truck market is looking good: "There seems to be a healthy balance between supply and demand, and there's a lot of demand for tippers at present. Eight-wheelers are fetching very good money, as are six-wheelers—if you can find one The tractor market seems stable, although I wouldn't describe it as strong."
WESTWARD BOUGHT Westward Commercials has gone into and out of administrative receivership on the same day. Volvo Truck and Bus South (VTBS), a subsidiary of the manufacturer, has acquired the Volvo dealership. With more than 250 employees, Westward has 10 sites throughout the West Country and South Wales, including outlets at Avonmouth, Bridgend, Gloucester and Swansea. The new business will become VTBS's fourth region, to be known as Wales and West.
Westward managing director David Hawkins has decided to pursue a career outside Volvo.
POPULAR TROLLIES
Who says that nobody wants low-powered ex-supermarket tractive units? In a recent sale held by Commercial Vehicle Auctions at Doncaster an ex-Tesco N-reg 1995 day-cab 320hp Scania P113 4x2 was knocked down for a remarkable £6,600. The buyer apparently plans to stretch the chassis and mount a crane behind the cab. The Scania was one of 247 trucks and trailers to find buyers in a lively sale. A P-rag Oaf 85 Series 360hp 4x2 tractive unit went for £6,900, while a 430hp 1994-vintage Daf 95 Series 6x4 heavy haulage tractor sold for 212,000.
Trailers did well too. A 1997 Crane Fruehauf 13.6m curtainsider with heavily lettered curtains sold for just over 29,000—One of the auctioneers expected it to fetch nearer 27,500—while a 1999 example was bought for slightly more than £13,000.
"We saw a lot of fresh faces at the sale, and they were spending their money, that's for sure," says a CVA spokesman.