French fitters say `non'
28th June 2001
Page 55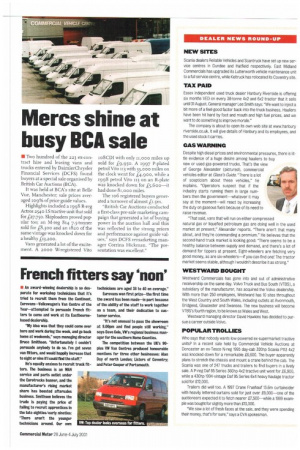 Page 55, 28th June 2001 —
French fitters say `non'
Close
IN An award-winning dealership is so desperate for workshop technicians that it's tried to recruit them from the Continent Eurovans—Volkswagen's Van Centre of the Year—attempted to persuade French fitters to come and work at its Eastbournebased dealership.
"My idea was that they could come over here and work during the week. and go back home at weekends," says managing director Bruce Smithson. "Unfortunately I couldn't persuade anybody to do so. I've got seven van fitters, and would happily increase that to eight or nine if I could find the staff."
He's equally anxious to recruit truck fitters. The business is an MAN service and parts outlet under the Eurotrucks banner, and the manufacturer's rising market share has boosted aftersales business. Smithson believes the trade is paying the price of failing to recruit apprentices in the late eighties/early nineties: "There aren't the younger technicians around. Our own
technicians are aged 38 to 40 on average."
Eurovans won first prize—the first time the award has been made—in part because of the ability of the staff to work together as a team, and their dedication to customer service.
"It's not unusual to pass the showroom at 9.00pm and find people still working," says Dave Cole, VW's regional business manager for the southern Home Counties.
The competition between the UK's 90plus VW Van Centres produced honourable mentions for three other businesses: Alan Day of north London; Listers of Coventry; and Peter Cooper of Portsmouth.