Used heavies in demand
28th June 2001
Page 54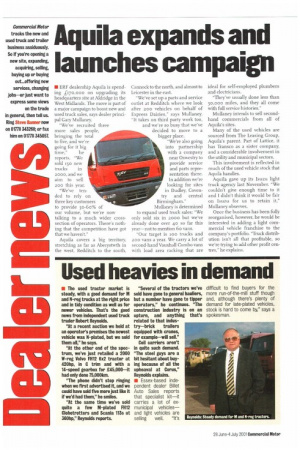 Page 54, 28th June 2001 —
Used heavies in demand
Close
• The used tractor market is steady, with a good demand for M and N-reg trucks at the right price and in tidy condition as well as for newer vehicles. That's the good news from independent used truck trader Robert Reynolds.
"At a recent auction we held at an operator's premises the newest vehicle was N-plated, but we sold them all," he says.
"At the other end of the spectrum, we've just retailed a 2000 W-reg Volvo FH12 6x2 tractor at 420hp, in C trim and with a 14-speed gearbox for 145,000—it had only done 75,000km.
"The phone didn't stop ringing when we first advertised it, and we could have sold five more just like it if we'd had them," he smiles.
"At the same time we've sold quite a few M-plated FH12 Globetrotters and Scania 113s at 360hp," Reynolds reports. "Several of the tractors we've sold have gone to general hauliers, but a number have gone to tipper operators," he continues. "The construction industry is on an upturn, and anything that's related to that industry—brick trailers equipped with cranes, for example—will sell."
Coil carriers aren't in quite such demand. "The steel guys are a bit hesitant about buying because of all the upheaval at Corns," Reynolds explains.
• Essex-based independent dealer Billet Auto Sales reports that specialist kit—it carries a lot of exmunicipal vehicles— and light vehicles are selling well. "It's difficult to find buyers for the more run-of-the-mill stuff though and, although there's plenty of demand for late-plated vehicles, stock is hard to come by," says a spokesman.