Aquila expands and launches campaign
28th June 2001
Page 54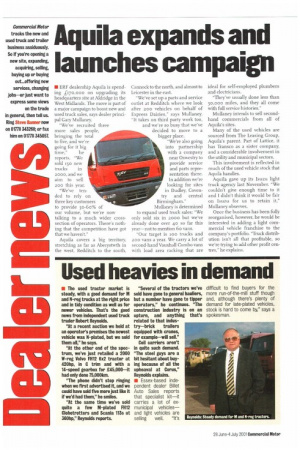 Page 54, 28th June 2001 —
Aquila expands and launches campaign
Close
• ERF dealership Aquila is spending £170,000 on upgrading its headquarters site at Aldridge in the West Midlands. The move is part of a major campaign to boost new and used truck sales, says dealer principal Gary Mullaney.
"We've recruited three
more sales people, bringing the total to five, and we're going for it big time," he
reports. "We sold i5o new trucks in
z000, and we aim to sell 200 this year.
"We've tended to rely on three key customers to provide 50-60% of our volume, but we're now talking to a much wider crosssection of operators. There's nothing that the competition have got that we haven't."
Aquila covers a big territory, stretching as far as Aberystwth in the west, Redditch to the south, Cannock to the north, and almost to Leicester in the east.
"We've set up a parts and service outlet at Redditch where we look after zoo vehicles on behalf of Express Dairies," says Mullaney. "It takes on third party work too, and we're so busy that we've decided to move to a bigger place.
"We're also going into partnership with a company near Oswestry to provide service and parts representation there. In addition we're looking for sites in Dudley, Coventry and central Birmingham."
Mullaney is determined
to expand used truck sales: "We only sold six in 2000 but we've already done over 40 so far this year—not to mention Go vans.
"Our target is too trucks and zoo vans a year. We carry a lot of second-hand Vauxhall Combo vans with load area racking that are ideal for self-employed plumbers and electricians.
"They've usually done less than 50,000 miles, and they all come with full service histories."
Mullaney intends to sell secondhand commercials from all of Aquila's sites.
Many of the used vehicles are sourced from The Leasing Croup, Aquila's parent. Part of Lattice, it has Transco as a sister company, and a considerable involvement in the utility and municipal sectors.
This involvement is reflected in much of the used vehicle stock that Aquila handles.
Aquila gave up its Isuzu light truck agency last November. "We couldn't give enough time to it and I didn't think it would be fair on lsuzu for us to retain it," Mullaney observes.
Once the business has been fully reorganised, however, he would be interested in adding a light commercial vehicle franchise to the company's portfolio. "Truck distribution isn't all that profitable, so we're trying to add other profit centres," he explains.