ow sa e are
28th June 2001
Page 48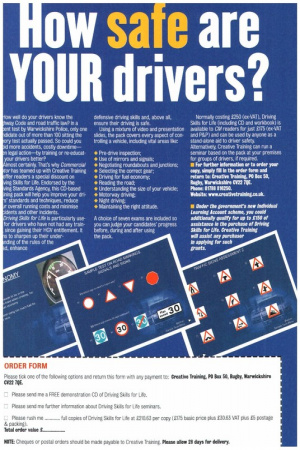 Page 48, 28th June 2001 —
ow sa e are
Close
YOUR drivers?
ow well do your drivers know the hway Code and road traffic law? In a ent test by Warwickshire Police, only one didate out of more than 100 sitting the ory test actually passed. So could you Id more accidents, costly downtime— n legal action—by training or re-educatyour drivers better?
lmost certainly. That's why Commercial tor has teamed up with Creative Training ffer readers a special discount on ving Skills for Life. Endorsed by the ving Standards Agency, this CD-based ining pack will help you improve your dris' standards and techniques, reduce r overall running costs and minimise idents and other incidents.
Driving Skills for Life is particularly usefor drivers who have not had any trainsince gaining their HGV entitlement. It s to sharpen up their under nding of the rules of the d, enhance defensive driving skills and, above all, ensure their driving is safe.
Using a mixture of video and presentation slides, the pack covers every aspect of controlling a vehicle, including vital areas like: • Pre-drive inspection; • Use of mirrors and signals; • Negotiating roundabouts and junctions; • Selecting the correct gear; • Driving for fuel economy; • Reading the road; • Understanding the size of your vehicle; • Motorway driving; • Night driving; • Maintaining the right attitude.
A choice of seven exams are included so you can judge your candidates progress before, during and after using the pack, Normally costing £250 (ex-VAT), Driving Skills for Life (including CD and workbook) is available to CM readers for just £175 (ex-VAT and P&P) and can be used by anyone as a stand-alone aid to driver safety. Alternatively, Creative Training can run a seminar based on the pack at your premises for groups of drivers, if required.
For further information or to order your copy, simply fill in the order form and return to: Creative Training, PO Box 50, Rugby, Warwickshire CV22 7QE.
Phone: 01788 816250.
Website: www.creativetraining.co.uk.
wl Under the government's new Individual Learning Account scheme, you could additionally qualify for up to S150 of assistance in the purchase of Driving Skills for Life. Creative Training will assist any purchaser in applying for such
grants.