SLIPPERY VI EN WET
28th June 2001
Page 46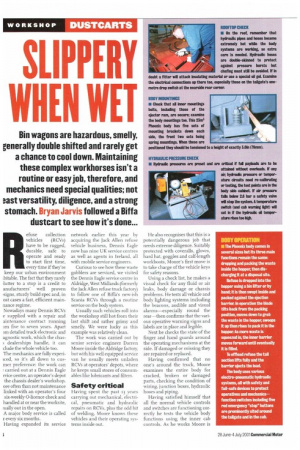 Page 47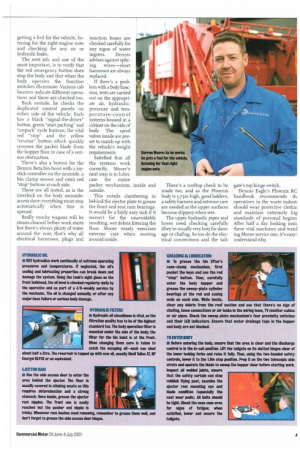 Page 46, 28th June 2001 —
SLIPPERY VI EN WET
Close
Bin wagons are hazardous, smelly, generally double shifted and rarely get a chance to cool down. Maintaining these complex workhorses isn't a routine or easy job, therefore, and mechanics need special qualities; not east versatility, diligence, and a strong stomach. Bryan Jarvis followed a Biffa dustcart to see how it's done...
Refu se collection vehicles (RCVs) have to be rugged, durable, safe to operate and ready to start first time, every time if they're keep our urban environment bitable. The fact that they rarely lutter to a stop is a credit to anufacturers' well proven :signs, sturdy build spec and, in ost cases a fast, efficient mainnance regime.
Nowadays many Dennis RCVs e supplied with a repair and aintenance contract running 3m five to seven years. Apart nn detailed truck electronic and agnostic work, which the chas; dealerships handle, it can dude the whole vehicle too. The mechanics are fully experiiced, so its all down to cusmer preference: the work can : carried out at a Dennis Eagle rvice centre, an operator's depot the chassis dealer's workshop. ore often than not maintenance linked with an operator's four six-weekly 0-licence check and handled at or near the worksite, ;ugly out in the open.
A major body service is called r every six months.
Having expanded its service network earlier this year by acquiring the Jack Allen refuse vehicle business, Dennis Eagle now has nine UK service centres as well as agents in Ireland, all with mobile service engineers.
Curious to see how these waste gobblers are serviced, we visited the Dennis Eagle service centre in Aldridge, West Midlands (formerly the Jack Allen refuse truck factory) to follow one of Biffa's newish Scania RCVs through a routine service on the body system.
Usually such vehicles roll into the workshop still hot from their last shift and rather grimy and smelly. We were lucky as this example was relatively clean.
The work was carried out by senior service engineer Darren Moore inside the Aldridge factory, but with his well equipped service van he usually meets unladen RCVs at operators' depots, where he keeps small stores of consumables like lubricants and filters.
Safety critical
Having spent the past 53 years carrying out mechanical, electrical, pneumatic and hydraulic repairs on RCVs, plus the odd bit of welding, Moore knows these vehicles and their operating systems inside out.
Re also recognises that this is a potentially dangerous job that needs extreme diligence. Suitably protected with coveralls, gloves, hard hat, goggles and calf-length workboots, Moore's first move is to take charge of the vehicle keys for safety reasons.
Using a check list, he makes a visual check for any fluid or air leaks, body damage or chassis problems. He tests all vehicle and body lighting systems including the beacons, audible and visual alarms—especially round the rear—then confirms that the various operative warning signs and labels are in place and legible.
Next he checks the state of the finger and hand guards around the operating mechanisms at the side. If damaged or missing they are repaired or replaced.
Having confirmed that no one's around the truck, Moore examines the entire body for cracked, broken or damaged parts, checking the condition of wiring, junction boxes, hydraulic hoses and piping.
Having satisfied himself that all the normal vehicle controls and switches are functioning correctly he tests the vehicle body functions using the inner cab controls. As he works Moore is getting a feel for the vehicle, listening for the right engine note and checking for any air or hydraulic leaks.
The next job, and one of the most important, is to verify that the red emergency button does stop the body and that when the body operates the function switches illuminate. Various cab buzzers indicate different operations and these are checked too.
Back outside, he checks the duplicated control panels on either side of the vehicle. Each has a black -signal-the-driver" button, green "start packing" and "unpack" cycle buttons, the vital red "stop" and the yellow "reverse" button which quickly reverses the packer blade from the hopper floor in case of a serious obstruction.
There's also a button for the Dennis Beta bin hoist with a joystick controller on the nearside, a bin clamp sensor and extra red "stop" buttons at each side.
These are all tested, as is the interlock on the body nearsideaccess door: everything must stop automatically when this is opened.
Really mucky wagons will be steam-cleaned before work starts but there's always plenty of water around the rear; that's why all electrical harnesses, plugs and junction boxes are checked carefully for any signs of water ingress. Dennis advises against splicing wires—short harnesses are always replaced.
If there's a problem with a body function, tests are carried out on the appropriate air, hydraulicpressure and temperaturec on t r ol systems housed in a cabinet on the side of body. The spool valves inside are preset to match up with the vehicle's weight requirements.
Satisfied that all the systems work correctly, Moore's next step is to lubricate the entire packer mechanism, inside and outside.
This entails clambering in behind the ejector plate to grease the front and rear ram bearings. It would be a fairly easy task if it weren't for the unavoidably revolting, wet debris littering the floor. Moore wisely exercises extreme care when moving around inside. There's a rooftop check to be made too, and as the Phoenix body is 3.75m high, good ladders, a safety harness and extreme care are needed as the upper surfaces become slippery when wet.
The upper hydraulic pipes and hoses need checking carefully (they're usually very hot) for damage or chafing. So too do the electrical connections and the tail gate's top hinge switch.
Dennis Eagle's Phoenix RC handbook recommends th. operatives in the waste indust should wear protective clothir and maintain extremely hig standards of personal hygien After half a day looking insic these vital machines and watcl ing Moore service one, it's easy understand why.