DIME
28th June 2001
Page 44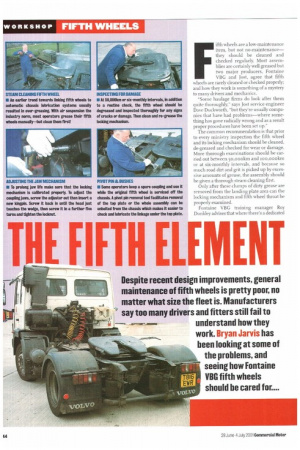 Page 45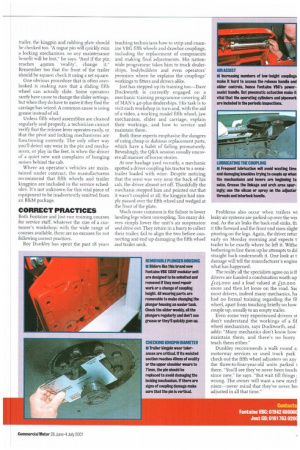 Page 44, 28th June 2001 —
DIME
Close
Despite recent design improvements, general maintenance of fifth wheels is pretty poor, no matter what size the fleet is. Manufacturers say too many drivers and fitters still fail to
1•1r■ immmg understand how they work. Bryan Jarvis has been looking at some of the problems, and seeing how Fontaine VIM fifth wheels should be cared for....
ifth wheels are a low-maintenance item, but not no-maintenancethey should be cleaned and checked regularly. Most assemblies are certainly well greased but two major producers, Fontaine VBG and Jost, agree that fifth wheels are rarely cleaned or checked properly; and how they work is something of a mystery to many drivers and mechanics.
"Some haulage firms do look after them quite thoroughly," says Jost service engineer Dave Duckworth, but they're usually companies that have had problems—where something has gone radically wrong and as a result proper procedures have been set up."
The common recommendation is that prior to every ministry inspection the fifth wheel and its locking mechanism should be cleaned, de-greased and checked for wear or damage. More thorough examinations should be carried out between 5 o,000km and loo,000km or at six-monthly intervals, and because so much road dirt and grit is picked up by excessive amounts of grease, the assembly should be given a thorough steam cleaning first.
Only after these clumps of dirty grease are removed from the landing plate area can the locking mechanism and fifth wheel throat be properly examined.
Fontaine VBG training manager Roy Dunkley advises that where there's a dedicated trailer, the kingpin and rubbing plate should be checked too. "A rogue pin will quickly ruin a locking mechanism, so any maintenance benefit will be lost," he says. And if the pin reaches 49mm 'oval ity', change it." Remember too that the front of the trailer should be square; check it using a set square.
One obvious procedure that is often overlooked is making sure that a sliding fifth wheel can actually slide. Some operators rarely have cause to change the slider settings, but when they do have to move it they find the carriage has seized. A common cause is using grease instead of oil.
Unless fifth wheel assemblies are cleaned regularly and properly, a technician cannot verify that the release lever operates easily, or that the pivot and locking mechanisms are functioning correctly. The only other way you'll detect any wear in the pin and mechanism, or play in the feet, is when the driver of a quiet new unit complains of banging noises behind the cab.
Where an operator's vehicles are maintained under contract, the manufacturers recommend that fifth wheels and trailer kingpins are included in the service schedules. It's not unknown for this vital piece of equipment to be inadvertently omitted from an R&M package.
CORRECT PRACTICES
Both Fontaine and Jost run training courses for service staff, whatever the size of a customer's workshop; with the wide range of courses available, there are no excuses for not following correct practices.
Roy Dunkley has spent the past i/3 years teaching technicians how to strip and examine VBC fifth wheels and drawbar couplings, including the replacement of components and making final adjustments. His nationwide programme takes him to truck dealerships, bodybuilders and even operators' premises where he explains the couplings' workings to fitters and drivers alike.
Jost has stepped up its training too—Dave Duckworth is currently engaged on a mechanic training programme covering all of MAN's 40-plus dealerships. His task is to visit each workshop in turn and, with the aid of a video, a working model fifth wheel, jaw mechanism, slider and carriage, explain their workings, and how to service and maintain them.
Both these experts emphasise the dangers of using cheap or dubious replacement parts, which have a habit of failing prematurely. Revealingly, the Q&A session usually uncovers all manner of horror stories.
At one haulage yard recently, a mechanic spotted a driver coupling his tractor to a semitrailer loaded with wine. Despite noticing that the semi was very near the back of his cab, the driver almost set off. Thankfully the mechanic stopped him and pointed out that it wasn't coupled at all; the kingpin had simply passed over the fifth wheel and wedged at the front of the plate.
Much more common is the failure to lower landing legs when uncoupling. Too many drivers simply lower the unit's air suspension and drive out. They return in a hurry to collect their trailer, fail to align the two before connecting and end up damaging the fifth wheel and trailer neck.
Problems also occur when trailers wi leaky air systems are parked up over the we end. As the air leaks the back end sinks, th it tilts forward and the front end rises slighi pivoting on the legs. Again, the driver retur early on Monday morning and expects t trailer to be exactly where he left it. With° bothering to line them up he attempts to dri straight back underneath it. One look at t damage will tell the manufacturer's engine what has happened.
The reality all the specialists agree on is drivers are handed a combination worth up /125,00o and a load valued at £50,000 more and then let loose on the road. Sac most drivers, indeed many mechanics, ha had no formal training regarding the fif wheel, apart from touching briefly on how couple up, usually to an empty trailer.
Even some very experienced drivers St don't understand the workings of a flu wheel mechanism, says Duckworth, and adds: "Many mechanics don't know how maintain them, and there's no hurry teach them either."
Dunldey recommends a walk round a: motorway services or used truck park check out the fifth wheel adjusters on any the three-to-four-year-old units parked I there. "You'll see they've never been touch. since new," he says. "But wait till things ; wrong. The owner will want a new med nism—never mind that they've never bei adjusted in all that time."