G iven the popular nickname by which Deputy Prime Minister John
28th June 2001
Page 42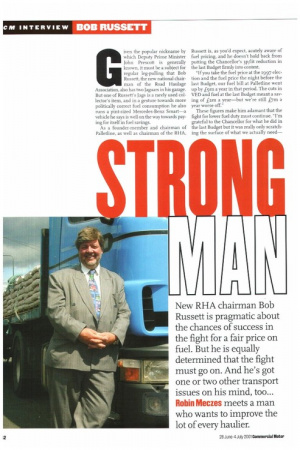 Page 43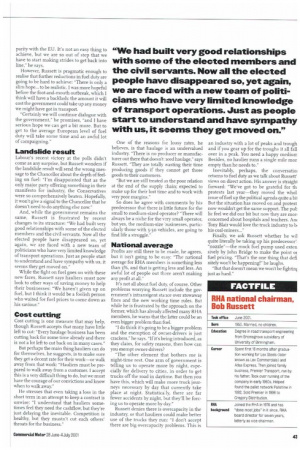 Page 42, 28th June 2001 —
G iven the popular nickname by which Deputy Prime Minister John
Close
Prescott is generally known, it must be a subject for regular leg-pulling that Bob Russett, the new national chairman of the Road Haulage Association, also has two Jaguars in his garage. But one of Russett's Jags is a rarely used collector's item, and in a gesture towards more politically correct fuel consumption he also runs a pint-sized Mercedes-Benz Smart—a vehicle he says is well on the way towards paying for itself in fuel savings.
As a founder-member and chairman of Palletline, as well as chairman of the RHA, Russett is, as you'd expect, acutely aware of fuel pricing, and he doesn't hold back from putting the Chancellor's 3p/lit reduction in the last Budget firmly into context.
"If you take the fuel price at the 19 97 election and the fuel price the night before the last Budget, our fuel bill at Palletline went up by £9m a year in that period. The cuts in VED and fuel at the last Budget meant a saving of p.m a year—but we're still km a year worse off."
These figures make him adamant that the fight for lower fuel duty must continue. "I'm grateful to the Chancellor for what he did in the last Budget but it was really only scratching the surface of what we actually need—
parity with the EU. It's not an easy thing to achieve, but we are so out of step that we have to start making strides to get back into line," he says.
However, Russett is pragmatic enough to realise that further reductions in fuel duty are going to be hard to achieve: "There is only a slim hope... to be realistic. I was more hopeful before the foot-and-mouth outbreak, which I think will have a backlash: the amount it will cost the government could take up any money we might have got in transport.
"Certainly we will continue dialogue with the government," he promises, "and I have serious hope we can get a bit more. But to get to the average European level of fuel duty will take some time and an awful lot of campaigning."
Landslide result
Labour's recent victory at the polls didn't come as any surprise, but Russett wonders if the landslide result will send the wrong message to the Chancellor about the depth of feeling on fuel: "I'm disappointed that as the only major party offering something in their manifesto for industry, the Conservatives were so comprehensively beaten. Hopefully, it won't give a signal to the Chancellor that he doesn't need to do anything else now."
And, while the government remains the same, Russett is frustrated by recent changes to its structure: "We had built very good relationships with some of the elected members and the civil servants. Now all the elected people have disappeared so, yet again, we are faced with a new team of politicians who have very limited knowledge of transport operations. Just as people start to understand and have sympathy with us, it seems they get moved on."
While the fight on fuel goes on with these new faces, Russett says hauliers must now look to other ways of saving money to help their businesses: "We haven't given up on fuel, but I think it would be a foolish person who waited for fuel prices to come down as his saviour."
Cost cutting
Cost cutting is one measure that may help, though Russett accepts that many have little left to cut: "Every haulage business has been cutting back for some time already and there is not a lot left to cut back on in many cases."
But perhaps the main thing hauliers can do for themselves, he suggests, is to make sure they get a decent rate for their work—or walk away from that work: "Hauliers must be prepared to walk away from a customer. I accept this is a very difficult thing to do, but we must have the courage of our convictions and know when to walk away."
He stresses that even taking a loss in the short term in an attempt to keep a contract is unwise: "I understand that hauliers sometimes feel they need the cashflow, but they're just delaying the inevitable. Competition is healthy, but they mustn't cut each others' throats for the business." One of the reasons for lousy rates, he believes, is that haulage is an undervalued industry. "There is no producer or manufacturer out there that doesn't aced haulage," says Russett. "They are totally wasting their time producing goods if they cannot get those goods to their customers.
"But we are still treated as the poor relation at the end of the supply :lain: expected to make up for their lost time and to work with very poor margins."
So does he agree with comments by his predecessor that there is little future for the small to medium-sized operator? "There will always be a niche for the vary small operator, but yes, the medium-size .3usinesses, particularly those with 5-50 vehicles, are going to find life a struggle."
National average
Profits are still there to be made, he agrees, but it isn't going to be easy: "The national average for RHA memben is something less than 3%, and that is getting less and less. An awful lot of people out there aren't making any profit at all."
It's not all about fuel duty, of course. Other problems worrying Russeit include the government's intransigent sta ace over stowaway fines and the new working time rules. But while he is frustrated by the approach on the former, which has already affected many RHA members, he warns that the latter could be an even bigger problem than fuel.
"I do think it's going to be a bigger problem and the exemption of owner-drivers is just crackers," he says. "If it's being introduced, as they claim, for safety reasons, then how can you exempt owner-drivers?
"The other element that bothers me is night-time rest. One arm of government is telling us to operate more by night, especially for delivery to cities, in order to get trucks off the road in daytime. But then you have this, which will make more truck journeys necessary by day that currently take place at night. Statistici ly, there are far fewer accidents by night, but they'll be forcing us to operate more by clay."
Russett denies there is overcapacity in the industry, or that hauliers could make better use of the trucks they run: "I don't accept there are big overcapacity problems. This is an industry with a lot of peaks and trough and if you gear up for the troughs it all fall over in a peak. You need a happy mediun-. Besides, no haulier runs a single mile mor empty than he needs to."
Inevitably, perhaps, the conversatio: returns to fuel duty as we talk about Russett' views on direct action. His answer is straigh: forward: "We've got to be grateful for th protests last year—they moved the whol issue of fuel up the political agenda quite a bi: But the situation has moved on and protest now wouldn't get the same support. The put lic feel we did our bit but now they are mon concerned about hospitals and teachers. Am Tony Blair would love the truck industry to b. his coal-miners..."
Finally, we ask Russett whether he wil quite literally be taking up his predecessor': "nozzle"—the mock fuel pump used exten sively by John Bridge to make the point or fuel pricing. "That's the one thing that defi nitely won't be happening!" he laughs.
"But that doesn't mean we won't be fightiril just as hard."