The gradual contraction of Scotland's manufacturing base has suddenly accelerated
28th June 2001
Page 40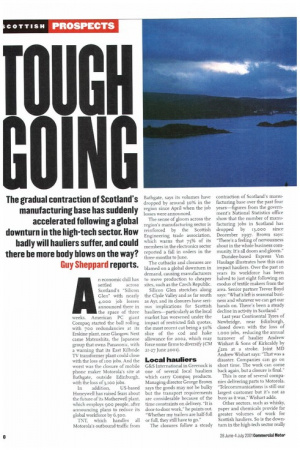 Page 41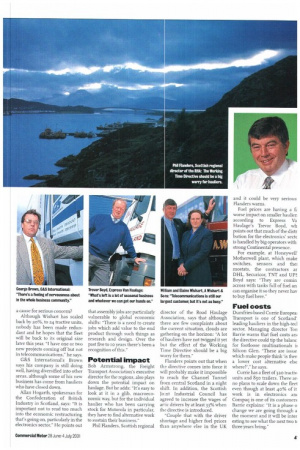 Page 40, 28th June 2001 —
The gradual contraction of Scotland's manufacturing base has suddenly accelerated
Close
following a global downturn in the high-tech sector. How badly will hauliers suffer, and could there be more body blows on the way? Guy Sheppard reports.
An economic chill has settled across Scotland's "Silicon Glen" with nearly 4,000 job losses announced there in the space of three weeks. American PC giant Compaq started the ball rolling with 7oo redundancies at its Erskine plant, near Glasgow. Next came Matsushita, the Japanese group that owns Panasonic, with a warning that its East Kilbride TV transformer plant could close with the loss of ioo jobs. And the worst was the closure of mobile phone maker Motorola's site at Bathgate, outside Edinburgh, with the loss of 3,mo jobs.
In addition, US-based Honeywell has raised fears about the future of its Motherwell plant, which employs goo people, after announcing plans to reduce its global workforce by 6,500.
TNT, which handles all Motorola's outbound traffic from Bathgate, says its volumes have dropped by around 3o% in the region since April when the job losses were announced.
The sense of gloom across the region's manufacturing sector is reinforced by the Scottish Engineering trade association, which warns that 75% of its members in the electronics sector reported a fall in orders in the three months to June.
The cutbacks and closures are blamed on a global downturn in demand, causing manufacturers to move production to cheaper sites, such as the Czech Republic.
Silicon Glen stretches along the Clyde Valley and as far south as Ayr, and its closures have serious implications for Scottish hauliers—particularly as the local market has worsened under the impact of restricted fish quotas, the most recent cut being a so% slice of the cod and hake allowance for zooz, which may force some firms to diversify (CM 21-27 June 2001).
Local hauliers
G&S International in Greenock is one of several local hauliers which carry Compaq products. Managing director George Brown says the goods may not be bulky but the transport requirements are considerable because of the time constraints on delivery. "It is door-to-door work," he points out. "Whether my trailers are half-full or full, they still have to go."
The closures follow a steady contraction of Scotland's manufacturing base over the past four years—figures from the government's National Statistics office show that the number of manufacturing jobs in Scotland has dropped by 13,000 since December 1997. Brown says: "There's a feeling of nervousness about in the whole business community. It's all doom and gloom."
Dundee-based Express Van Haulage illustrates how this can impact hauliers. Over the past To years its workforce has been halved to just eight following an exodus of textile makers from the area. Senior partner Trevor Boyd says: "What's left is seasonal business and whatever we can get our hands on. There's been a steady decline in activity in Scotland."
Last year Continental Tyres of Newbridge, near Edinburgh, closed down with the loss of L000 jobs, reducing the annual turnover of haulier Andrew Wishart & Sons of Kirkcaldy by Lzm at a stroke. Joint MD Andrew Wishart says: -That was a disaster. Companies can go on short time. The work can come back again, but a closure is final."
This is one of several companies delivering parts to Motorola. "Telecommunications is still our largest customer but it's not as busy as it was," Wishart adds.
Other sectors, such as whisky, paper and chemicals provide far greater volumes of work for Scottish hauliers. So is the downturn in the high-tech sector really a cause for serious concern?
Although Wishart has scaled back by 20%, to 24 tractive units, nobody has been made redundant and he hopes that the fleet will be back to its original size later this year. "I have one or two new projects coming off but not in telecommunications," he says.
G8cS International's Brown says his company is still doing well, having diversified into other areas, although some of his new business has come from hauliers who have closed down.
Allan Hogarth, spokesman for the Confederation of British Industry in Scotland, says: "It is important not to read too much into the economic restructuring that's going on, particularly in the electronics sector." He points out that assembly jobs are particularly vulnerable to global economic shifts: "There is a need to create jobs which add value to the end product through such things as research and design. Over the past five to to years there's been a recognition of this."
Potential impact
Bob Armstrong, the Freight Transport Association's executive director for the regions, also plays down the potential impact on haulage. But he adds: "It's easy to look at it in a glib, macroeconomic way, but for the individual haulier who has been carrying stock for Motorola in particular, they have to find alternative work to sustain their business.'
Phil Flanders, Scottish regional director of the Road Haulage Association, says that although there are few complaints about the current situation, clouds are gathering on the horizon: "A lot of hauliers have not twigged it yet but the effect of the Working Time Directive should be a big worry for them."
Flanders points out that when the directive comes into force it will probably make it impossible to reach the Channel Tunnel from central Scotland in a night shift. In addition, the Scottish Jo-.nt Industrial Council has agreed to increase the wages of arric drivers by at least 33% when the directive is introduced.
"Couple that with the driver shortage and higher fuel prices than anywhere else in the UK and it could be very serious Flanders warns.
Fuel prices are having a ft worse impact on smaller haulier. according to Express Va Haulage's Trevor Boyd, wh points out that much of the dist bution for the electronics' sectc is handled by big operators with strong Continental presence.
For example, at Honeywell' Motherwell plant, which make switches, sensors and thei mostats, the contractors ar DHL, Securicor, TNT and UP Boyd says: "They are commn across with tanks full of fuel an can organise it so they never hay to buy fuel here."
Fuel costs
Dumfries-based Currie Europea: Transport is one of Scotland' leading hauliers in the high-tecl sector. Managing director Ton Barrie warns that fuel costs an. the directive could tip the balanc for footloose multinationals ii Silicon Glen. "These are issue which make people think 'is ther. a lower cost alternative else where?'," he says.
Currie has a fleet of 32o tractiv. units and 850 trailers. There ar. no plans to scale down the fleet even though at least 40% of it work is in electronics an Compaq is one of its customers Barrie explains: "It is a phase o change we are going through a the moment and it will be inter esting to see what the next two t( three years bring."