By our Northern Correspondent Eric Strongitharin Oswaldtwistle.
28th June 2001
Page 28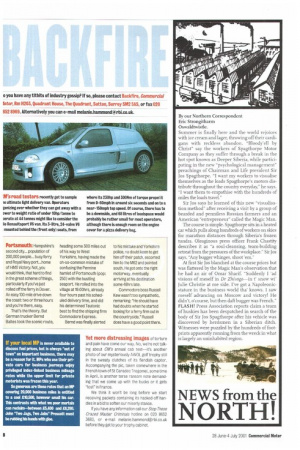 Page 28, 28th June 2001 —
By our Northern Correspondent Eric Strongitharin Oswaldtwistle.
Close
Summer is finally here and the world rejoices with ice cream and lager, throwing off their cardigans with reckless abandon. "Bloody'ell by Christ" say the workers of Spagthorpe Motor Company as they suffer through a break in the hot spot known as Deeper Siberia, while participating in the new "psychological management" preachings of Chairman and Life president Sir Jos Spagthorpe. "I want my workers to visualise themselves as the loads Spagthorpe's motors distribute throughout the country everyday," he says.
want them to empathise with the hundreds of miles the loads travel."
Sir Jos says he learned of this new "visualisation method" after receiving a visit by a group of bearded and penniless Russian farmers and an American "entrepreneur" called the Magic Man.
The course is simple. Spagthorpe sits in a heated car which pulls along hundreds of workers on skies for marathon distances through Siberia's frozen tundra. Oleaginous press officer Frank Chastity describes it as -a soul-cleansing, team-building retreat from the pressures of the workplace." Sir Jos says, "Any bugger whinges, shoot 'em."
At first Sir Jos blanched at the course prices but was flattered by the Magic Man's observation that he had an air of Omar Sharif. "Suddenly I 'ad visions of meself in Dr Zhivago—in t' snow wi' Julie Christie at me side. I've got a Napoleonicstature in the business world tha' knows. I saw meself advancing on Moscow and victory! He didn't, o'course, but then daft bugger was French." FLASH1 Press Association reports claim a team of huskies has been despatched in search of the body of Sir Jos Spagthorpe after his vehicle was discovered by herdsmen in a Siberian ditch. Witnesses were puzzled by the hundreds of footprints apparently running from the wreck in what is largely an uninhabited region.