Ecoair launches K-Dryer rotary screw compressors
28th June 2001
Page 24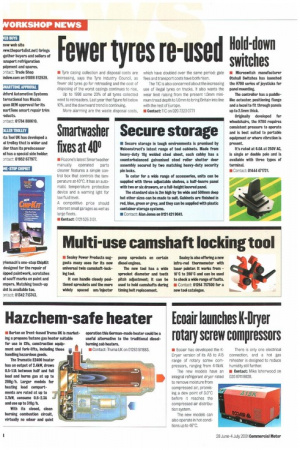 Page 24, 28th June 2001 —
Ecoair launches K-Dryer rotary screw compressors
Close
Keywords :
Compressors
,
Chemical Engineering
,
Atmospheric Thermodynamics
,
Psychrometrics
,
Heating, Ventilating, And Air Conditioning
,
Gas Compressor
,
Rotary Screw Compressor
,
Dew Point
,
Humidity
,
Pneumatics
• Ecoair has developed the KDryer version of its 45 to 415 range of rotary screw Compressors, ranging from 4-11kW.
The new models have an integral refrigerant dryer rated to remove moisture from compressed a4', promising a dew point of 3.0T before it reaches the compressed air distribution system.
The new models can also operate in hot conditions up to 46°C. There is only one electrical connection, and a hot gas reheater is designed to reduce humidity still further.
• Contact: Mike Isherwood on 020 8741 9828.