Three more Hockin drivers fined
28th June 2001
Page 21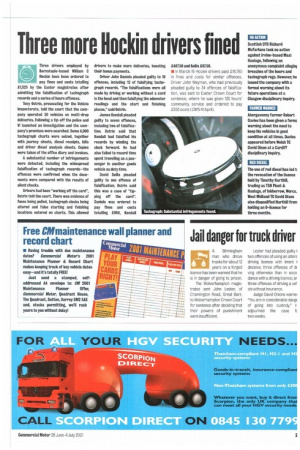 Page 21, 28th June 2001 —
Three more Hockin drivers fined
Close
Three drivers employed by Barnstaple-based William C Hockin have been ordered to pay fines and costs totalling £1,525 by the Exeter magistrates after admitting the falsification of tachograph records and a series of hours offences.
Tony Ostrin, prosecuting for the Vehicle Inspectorate, told the court that the company operated 30 vehicles on multi-drop deliveries. Following a tip-off the police and VI launched an investigation and the company's premises were searched. Some 4,000 tachograph charts were seized, together with journey sheets, diesel receipts, bills and driver diesel analysis sheets. Copies were taken of the office diary and invoices.
A substantial number of infringements were detected, including the widespread falsification of tachograph records—the offences were confirmed when the documents were compared with the results of silent checks.
Drivers had been "working off the card", Ostrin told the court. There was evidence of fuses being pulled, tachograph clocks being altered and false starting and finishing locations entered on charts. This allowed drivers to make more deliveries, boosting their bonus payments.
Driver John Daniels pleaded guilty to 19 offences, including 12 of falsifying tachograph records. "The falsifications were all made by driving or working without a card in the head and then falsifying the odometer readings and the start and finishing places," said Ostrin.
James Kendall pleaded guilty to seven offences, including two of falsification. Ostrin said that Kendall had falsified his records by winding the clock forward. He had also failed to record time spent travelling as a passenger in another goods vehicle as duty time.
David SoIlls pleaded guilty to one offence of falsification; Ostrin said this was a case of "tipping off the card". Daniels was ordered to pay fines and casts totalling 1950, Kendall £487.50 and Solis £87.50.
MI In March 19 Hockin drivers paid £18,780 in fines and costs for similar offences. Driver John Weyman, who had previously pleaded guilty to 34 offences of falsification, was sent to Exeter Crown Court for sentence, where he was given 120 hours' community service and ordered to pay 2,300 costs (CM 5-11 April).