Jones agreed that he had not been near the business
28th June 2001
Page 20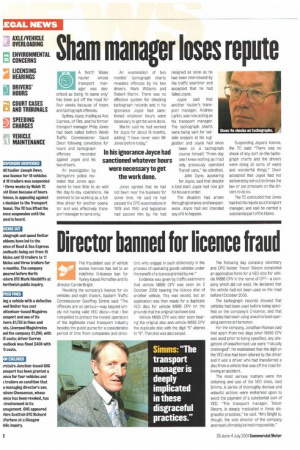 Page 20, 28th June 2001 —
Jones agreed that he had not been near the business
Close
for some time. He said he had passed the CPC examinations in 1979 and 1980 and legislation had passed him by He had resigned as soon as he had been interviewed by the traffic examiner and accepted that he had failed Joyce.
Joyce said that another haulier's transport manager, Andrew Larkin, was now acting as his transport manager. The tachograph charts were being sent for outside anatysis at his suggestion and Joyce had since been on a tachograph course himself. "From day one I knew nothing as I had only previously operated Transit vans," he admitted.
John Dyne, appearing for Joyce, said that despite a bad start Joyce had now got his house in order.
The situation had arisen through ignorance and inexperience: Joyce had not intended any of it to happen. Suspending Joyce's licence, the TC said: "There was no check of any sort on the tachograph charts and the drivers were doing all sorts of weird and wonderful things." Dixon accepted that Joyce had not deliberately set out to break the law or put pressure on the drivers to do so.
The TC concluded that Jones had lost his repute as a transport manager, and said he carried a substantial part of the blame.