Director banned for licence fraud
28th June 2001
Page 20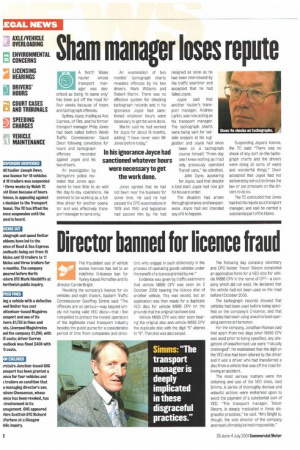 Page 20, 28th June 2001 —
Director banned for licence fraud
Close
The fraudulent use of vehicle excise licences has led to an indefinite 0-licence ban for Yaxley-based Romaflex and its director Carole Bright.
Revoking the company's licence for six vehicles and eight trailers, Eastern Traffic Commissioner Geoffrey Simms said: "The offences are so serious—way beyond simply not having valid VED discs—that I feel compelled to protect the honest operators of the legitimate road transport industry besides the public purse for a considerable period of time from companies and direc
tors who engage in such dishonesty in the process of operating goods vehicles under the benefit of a licence granted by me."
Evidence was given by traffic examiners that vehicle M886 CPV was seen on 2 October 2000 bearing the licence disc of another vehicle. This was seized, but an application was then made for a duplicate VED disc for vehicle M685 CPV on the grounds that the original had been lost.
Vehicle M885 CPV was later seen bearing the original disc and vehicle M886 CPV the duplicate disc with the digit "5" altered to "6". That disc was also seized. The following day company secretary and CPC holder Trevor Steam completed an application form for a VED disc for vehicle M886 CPV in the name of OPT—a company which did not exist. He declared that the vehicle had not been used on the road before lOctober 2000.
The tachograph records showed that vehicles had been used before being specified on the company's 0-licence, and that vehicles had been using unauthorised operating centres at Harleston.
For the company, Jonathan Rieman said that apart from two days when M886 CPV was used prior to being specified, any allegations of unauthorised use were "robustly challenged". He maintained that the digit on the VED disc had been altered by the driver and it was a driver who had transferred a disc from a vehicle that was off the road following an accident.
The most serious matters were the obtaining and use of the VED discs, said Simms. A series of thoroughly devious and unlawful actions were embarked upon to avoid the payment of a substantial sum of VED. The transport manager, Trevor Steam, is deeply implicated in these disgraceful practices," he said, "Mrs Bright is, though, the sole director of the company and must ultimately be held responsible."