Yes, you can cut your fuel bills!
28th June 2001
Page 16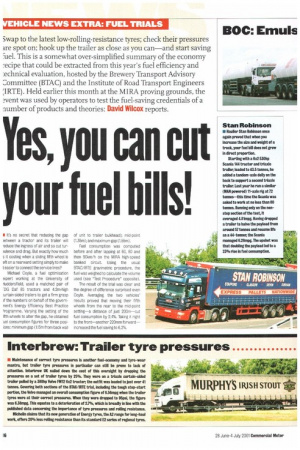 Page 16, 28th June 2001 —
Yes, you can cut your fuel bills!
Close
Swap to the latest low-rolling-resistance tyres; check their pressures ire spot on; hook up the trailer as close as you can—and start saving Puel. This is a somewhat over-simplified summary of the economy :-ecipe that could be extracted from this year's fuel efficiency and :echnical evaluation, hosted by the Brewery Transport Advisory 'Committee (BTAC) and the Institute of Road Transport Engineers ;IRTE). Held earlier this month at the MIRA proving grounds, the went was used by operators to test the fuel-saving credentials of a aumber of products and theories: David Wilcox reports.
• It's no secret that reducing the gap )etween a tractor and its trailer will 'educe the ingress of air and so cut turmlence and drag, But exactly how much Sit costing when a sliding fifth wheel is eft on a rearward setting simply to make t easier to connect the service lines?
Michael Coyle, a fuel optimisation ?.xpert working at the University of luddersfield, used a matched pair of -DG De 85 tractors and 4.2m-high )urtain-sided trailers to get a firm grasp )f the numbers on behalf of the governrent's Energy Efficiency Best Practice )rogramme. Varying the setting of the ifth wheels to alter the gap, he obtained uei consumption figures for three posiions: minimum gap (1.13m from back wall
of unit to trailer bulkhead); mid-point (1.35m); and maximum gap (1.55m).
Fuel consumption was computed before and after lapping at 60, 80 and then 90km/h on the MIRA high-speed banked circuit. Using the usual BTAC/IRTE gravirretric procedure, the fuel was weighed to calculate the volume used (see "Test Procedure" opposite).
The result of the trial was clear and the degree of difference surprised even Coyle. Averaging the two vehicles' results proved that moving their fifth wheels from the rear to the mid-point setting—a distance of just 200m—cut fuel consumption by 2.4%. Taking it right to the front—another 220mm forward— increased the fuel saving to 6.2%.