loyal Mail reviews roads post-haste
28th June 2001
Page 14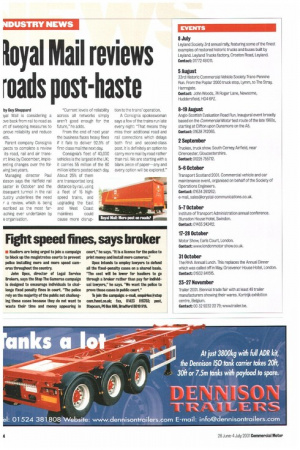 Page 14, 28th June 2001 —
loyal Mail reviews roads post-haste
Close
by Guy Sheppard rya' Mail is considering a Dye back from rail to road as irt of sweeping measures to prove reliability and reduce ists.
Parent company Consignia :pects to complete a review its road, rail and air transrt links by December, imploenting changes over the folning two years.
Managing director Paul iteson says the Hatfield rail caster in October and the ibsequent turmoil in the rail Justry underlines the need r a review, which is being ?scribed as the most far!aching ever undertaken by e organisation. 'Current levels of reliability across all networks simply aren't good enough for the future, he adds.
From the end of next year the business faces heavy fines if it fails to delver 92.5% of first-class mail the next day.
Consignia's fleet of 40,000 vehicles is the largest in the UK; it carries 55 million of the BO million letters posted each day. About 25% of them are transported long distance by rail, using a fleet of 16 highspeed trains, and upgrading the East e and West Coast mainlines could cause more disrup tion to the trains' operation.
A Consignia spokeswoman says a few of the trains run late every night: "That means they miss their additional road and rail connections which delays both first and second-class post. It is definitely an option to carry more mail by road rather than rail. We are starting with a blank piece of paper—any and every option will be explored."