towaway fines challenged
28th June 2001
Page 12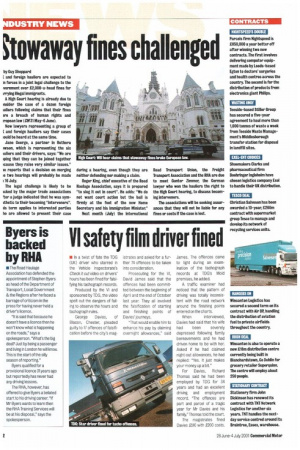 Page 12, 28th June 2001 —
towaway fines challenged
Close
by Guy Sheppard and foreign hauliers are expected to in forces in a joint legal challenge to the vernment over £2,000-a-head fines for ['Tying illegal immigrants.
A High Court hearing is already due to Insider the case of a dozen foreign milers following claims that their fines re a breach of human rights and iropean law (CM31 May-6 June).
Now lawyers representing a group of ( and foreign hauliers say their cases laid be heard at the same time.
Jane George, a partner in Rothera iwson, which is representing the six 'idlers and their drivers, says: "We are ping that they can be joined together 'cause they raise very similar issues.'' le reports that a decision on merging e two hearings will probably be made 16 July.
The legal challenge is likely to be icked by the major trade associations ter a judge indicated that he was symithetic to their becoming Interveners". is term applies to interested parties ho are allowed to present their case during a hearing, even though they are neither defending nor making a claim.
Roger King, chief executive of the Road Haulage Association, says it is prepared "to slug it out In court". He adds: "We do not want court action but the ball is firmly at the feet of the new Home Secretary and his Immigration Minister."
Next month (July) the International
Road Transport Union, the Freight Transport Association and the RHA are due to meet Gunter Zimmer, the German lawyer who won the hauliers the right to the High Court hearing, to discuss becoming interveners.
The associations will be seeking assurances that they will not be liable for any fines or costs if the case is lost.