Recovery vehicle lift figures
28th June 1974
Page 47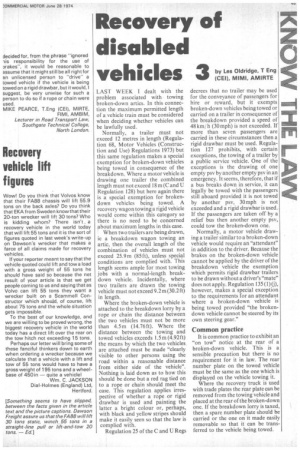 Page 47, 28th June 1974 —
Recovery vehicle lift figures
Close
Wow! Do you think that Volvos know that their FA88 chassis will lift 55.9 tons on the back axles? Do you think that EKA from Sweden know that their 20-ton wrecker will lift 30 tons? Who is kidding whom? There isn't, a recovery vehicle in the world today that will lift 55 tons and it is the sort of figures quoted in last week's write-up on Dawson's wrecker that makes a farce of all claims made for recovery vehicles.
If your reporter meant to say that the vehicle quoted could lift and tow a load with a gross weight of 55 tons he should have said so because the net result of your article is that we get people coming to us and saying that as Volvo can lift 55 tons they want a wrecker built on a Scammell Constructor which should, of course, lift about 75 tons and the whole situation gets impossible.
To the best of our knowledge, and we are willing to be proved wrong, the biggest recovery vehicle in the world today has a direct lift over the rear on the tow hitch not exceeding 15 tons.
Perhaps our letter will bring some of these fanciful thinkers down to earth when ordering a wrecker because we calculate that a vehicle with a lift and tow of 55 tons would have to have a gross weight of 195 tons and a wheelbase of 450 in — quite a vehicle!
Wm. C. JACKSON Dial-Holmes (England) Ltd, Hertford.