LETT RS
28th June 1974
Page 46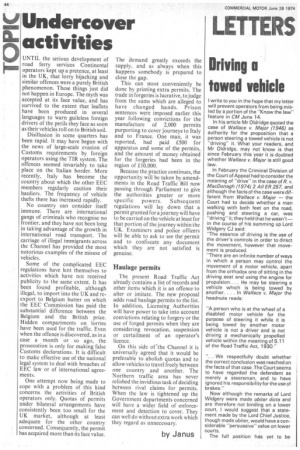 Page 47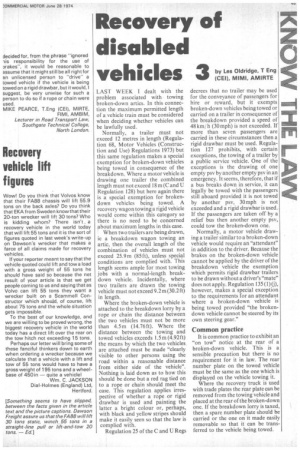 Page 46, 28th June 1974 —
LETT RS
Close
Driving a towed vehicle
I write to you in the hope that my letter will prevent operators from being misled by a portion of the "Know the law" feature in CM June 14.
In his article Mr Oldridge quoted the case of Wallace v. Major (1946) as authority for the proposition that a person steering a towed vehicle is not "driving" it. What your readers, and Mr Oldridge, may not know is that since February this year it is doubted whether Wallace v. Major is still good law.
In February the Criminal Division of the Court of Appeal had to consider the meaning of "drive" in the case of R. v. MacDonagh (1974) 2 All ER 257, and although the facts of the case were different from Wallace v. Major — the Court had to decide whether a man walking with both feet on the road, pushing and steering a car, was "driving" it; they held that he wasn't — in the course of his summing up Lord Widgery CJ said:
"The essence of driving is the use of the driver's controls in order to direct the movement, however that movement is produced.
"There are an infinite number of ways in which a person may control the movement of a motor vehicle, apart from the orthodox one of sitting in the driving seat and using the engine for propulsion.... He may be steering a vehicle which is being towed by another. . . . In Wallace v. Major the headnote reads:
"A person who is at the wheel of a disabled motor vehicle for the purpose of steering it while it is being towed by another motor vehicle is not a driver and is not driving a mechanically propelled vehicle within the meaning of S.11 of the Road Traffic Act, 1930."
"... We respectfully doubt whether the correct conclusion was reached on the facts of that case. The Court seems to have regarded the defendant as merely a steersman, and to have ignored his responsibilityfor the use of brakes."
Now although the remarks of Lord Widgery were made obiter dicta and are therefore not binding on a lower court, I would suggest that a statement made by the Lord Chief Justice, though made obiter, would have a considerable "persuasive" value on lower courts.
The full position has yet to be decided for, from the phrase "ignored us responsibility for the use of J rakes", it would be reasonable to assume that it might still be all right for an unlicensed person to "drive" a towed vehicle if the vehicle is being towed on a rigid drawbar, but it would, I suggest, be very unwise for such a person to do so if a rope or chain were used.
MIKE PEARCE, T.Eng (CEI), MIRTE, FIMI, AMBIM, Lecturer in Road Transport Law, Southgate Technical College, North London,