Harmony at last?
28th June 1974
Page 36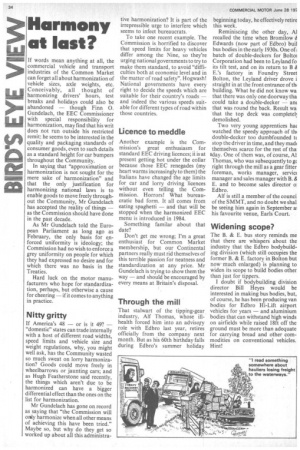 Page 36, 28th June 1974 —
Harmony at last?
Close
If words mean anything at all, the commercial vehicle and transport industries of the Common Market can forget all about harmonization of vehicle sizes, axle weights, etc. Conceivably, all thought of harmonizing drivers' hours, test breaks and holidays could also be abandoned — though Finn 0. Gundelach, the EEC Commissioner with special responsibility for harmonization, may find that his writ does not run outside his restricted remit: he seems to be interested in the quality and packaging standards of rrA consumer goods, even to such details as a standard height for car bumpers throughout the Community. as a standard height for car bumpers throughout the Community.
In saying that "approximation or harmonization is not sought for the mere sake of harmonization" and that the only justification for harmonizing national laws is to enable goods to move freely throughout the Community, Mr Gundelach has accepted the reality of things — as the Commission should have done in the past decade.
As Mr Gundelach told the European Parliament as long ago as February, the only basis for enforced uniformity is ideology; the Commission had no wish to enforce a grey uniformity on people for which they had expressed no desire and for which there was no basis in the Treaties.
Hard luck on the motor manufacturers who hope for standardization, perhaps, but otherwise a cause for cheering — if it comes to anything in practice.
N i tty gritty If America's 48 — or is it 49? — "domestic" states can trade internally with a host of different road widths, speed limits and vehicle size and weight regulations, why, you might well ask, has the Community wasted so much sweat on lorry harmonization? Goods could move freely in wheelbarrows or jaunting cars; and as Hugh Featherstone said recently, the things which aren't due to be harmonized can have a bigger differential effect than the ones on the list for harmonization.
Mr Gundelach has gone on record as saying that "the Commission will only harmonize when all other means of achieving this have been tried." Maybe so, but why do they get so worked up about all this administra tive harmonization? It is part of the irrepressible urge to interfere which seems to infect bureaucrats.
To take one recent example. The Commission is horrified to discover that speed limits for heavy vehicles differ among the Nine, so they're urging national governments to try to make them standard, to avoid "difficulties both at economic level and in the matter of road safety". Hogwash! National governments have every right to decide the speeds which are suitable for their country's roads — and indeed the various speeds suitable for different types of road within those countries.
Licence to meddle
Another example is the Commission's great enthusiasm for standard EEC driving licences; it is at present getting hot under the collar because those EEC renegades (my heart warms increasingly to them) the Italians have changed the age limits for car and lorry driving licences without even telling the Commission. Horrors! What bureaucratic bad form. It all comes from eating spaghetti — and that will be stopped when the harmonized EEC menu is introduced in 1984.
Something familar about that date?
Don't get me wrong; I'm a great enthusiast for Common Market membership, but our Continental partners really must rid themselves of this terrible passion for neatness and standardization at any price. Mr Gundelach is trying to show them the way — and should be encouraged by every means at Britain's disposal.
Through the mill
That stalwart of the tipping-gear , industry, Alf Thomas, whose illhealth forced him into an advisory role with Edbro last year, retires officially from the company next month. But as his 60th birthday falls during Edbro's summer holiday beginning today, he effectively retire this week.
Reminiscing the other day, Al recalled the time when Bromilow Edwards (now part of Edbro) buil bus bodies in the early 1930s. One of; batch of double-deckers for Boltoi Corporation had been to Leyland fo its tilt test, and on its return to B a E.'s factory in Foundry Street Bolton, the Leyland driver drove i straight in at the front entrance of till building. What he did not know wa that there was only one doorway tha could take a double-decker — am that was round the back. Result wa: that the top deck was completel■ demolished.
Two very young apprentices hax watched the speedy approach of flu double-decker too dumbfounded tc stop the driver in time, and they madi themselves scarce for the rest of tha. iday. One of them was, of course, AL Thomas, who was subsequently to gc right through the mill as a gear fitter foreman, works manager, servic( manager and sales manager with B. & E. and to become sales director o: Edbro.
Alf is still a member of the counci of the SMMT, and no doubt we shal be seeing him again in September ai his favourite venue, Earls Court.
Widening scope?
The B. & E. bus story reminds me that there are whispers about the industry that the Edbro bodybuilding division (which still occupies the former B. & E. factory in Bolton but now much enlarged) is planning to widen its scope to build bodies other than just for tippers.
I doubt if bodybuilding division director Bill Heyes would be interested in making bus bodies, but, of course, he has been producing van bodies for Edbro Hi-Lift airport vehicles for years — and aluminium bodies that can withstand high winds on airfields while raised 18ft off the ground must be more than adequate for carrying bread and other commodities on conventional vehicles. Hint!