Are you prepared for a 500pc 'unfreeze'
28th June 1974
Page 34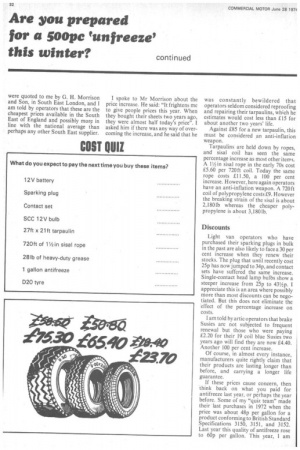 Page 35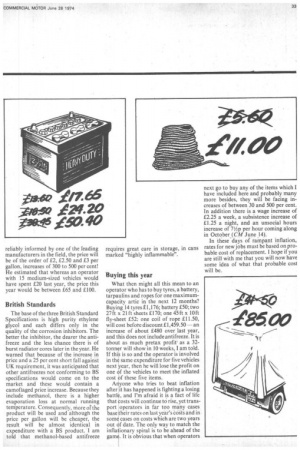 Page 34, 28th June 1974 —
Are you prepared for a 500pc 'unfreeze'
Close
this winter? continued
were quoted to me by G. H. Morrison and Son, in South East London, and I am told by operators that these are the cheapest prices available in the South East of England and possibly morp in line with the national average than perhaps any other South East supplier. I spoke to Mr Morrison about the price increase. He said: "It frightens me to give people prices this year. When they bought their sheets two years ago, they were almost half today's price". asked him if there was any way of overcoming the increase, and he said that he was constantly bewildered that operators seldom considered reproofing and repairing their tarpaulins, which he estimates would cost less than £15 for about another two years' life.
Against £85 for a new tarpaulin, this must be considered an anti-inflation weapon.
Tarpaulins are held down by ropes, and sisal coil has seen the same percentage increase as most other items. A 11/2 in sisal rope in the early 70s cost £5.60 per 720 ft coil. Today the same rope costs £11.50, a 100 per cent increase. However, here again operators have an anti-inflation weapon. A 720 ft coil of polypropylene costs O. However the breaking strain of the sisal is about 2.180 lb whereas the cheaper polypropylene is about 3,180 lb.
Discounts
Light van operators who have purchased their sparking plugs in bulk in the past are also likely to face a 30 per cent increase when they renew their stocks. The plug that until recently cost 25p has now jumped to 34p, and contact sets have suffered the same increase. Single-contact head lamp bulbs show a steeper increase from 25p to 431/2p. I appreciate this is an area where possibly more than most discounts can be negotiated. But this does not eliminate the 'effect of the percentage increase on costs.
I am told by artic operators that brake Susies are not subjected to frequent renewal but those who were paying £2.20 for their 19 coil blue Susies two years ago will find they are now £4.40. Another 100 per cent increase.
Of course, in almost every instance, manufacturers quite rightly claim that their products are lasting longer than before, and carrying a longer life guarantee.
If these prices cause concern, then think back on what you paid for antifreeze last year, or perhaps the year before. Some of my "quiz team" made their last purchases in 1972 when the price was about .48p per gallon for a product conforming to British Standard Specifications 3150, 3151, and 3152. Last year this quality of antifreeze rose to 60p per gallon. This year, I am reliably informed by one of the leading manufacturers in the field, the price will be of the order of £2, £2.50 and £3 per gallon, increases of 300 to 500 per cent! He estimated that whereas an operator with 15 medium-sized vehicles would have spent £20 last year, the price this year would be between £65 and £100.
British Standards
The base of the three British Standard Specifications is high purity ethylene glycol and each differs only in the quality of the corrosion inhibitors. The better the inhibitor, the dearer the antifreeze and the less chance there is of burst radiator cores later in the year. He warned that because of the increase in price and a 25 per cent short fall against UK requirement, it was anticipated that other antifreezes not conforming to BS specifications would come on to the market and these would contain a camoflaged price increase. Because they include methanol, there is a higher evaporation loss at normal running temperature. Consequently, more oi the product will be used and although the price per gallon will be cheaper, the result will be almost identical in expenditure with a BS product. I am told that methanol-based antifreeze requires great care in storage, in cans marked "highly inflammable".
Buying this year
What then might all this mean to an operator who has to buy tyres, a battery, tarpaulins and ropes for one maximumcapacity artic in the next 12 months? Buying 14 tyres £1,176; battery £50; two 27 ft x 21 ft sheets £170; one 45ft x 10ft fly-sheet £52; one coil of rope £11.50, will cost before discount £1,459.50 an increase of about £480 over last year, and this does not include antifreeze. It is about as much pretax profit as a 32tanner will show in 10 weeks, I am told. If thi is so and the operator is involved in the same expenditure for five vehicles next year. then he will lose the profit on one of the vehicles to meet the inflated cost of these five items.
Anyone who tries to beat inflation after it has happened is fighting a losing battle, and I'm afraid it is a fact of life that costs will continue to rise, yet transport operators in far too many cases base their rates on last year's costs and in some cases on costs which are two years out of date. The only way to match the inflationary spiral is to be ahead of the game. It is obvious that when operators next go to buy any of the items which I have included here and probably many more besides, they will be facing increases of between 30 and 500 per cent. In addition there is a wage increase of £2.25 a week, a subsistence increase of £1.25 a night, and an unsocial hours increase of 71/2p per hour coming along in October (CM June _14).
In these days of rampant inflation, rates for new jobs must be based on probable cost of replacement. I hope if you are still with me that you will now have some idea of what that probable cost will be.