Are you prepared -Ifs* for a 500pc 'unfreeze' this winter?
28th June 1974
Page 33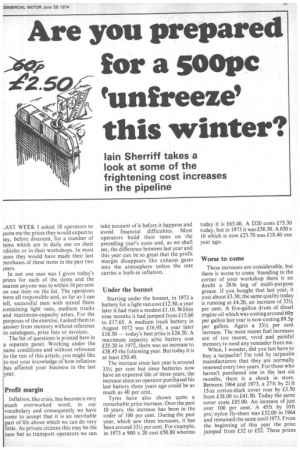 Page 33, 28th June 1974 —
Are you prepared -Ifs* for a 500pc 'unfreeze' this winter?
Close
lain Sherriff takes a look at some of the frightening cost increases in the pipeline
.AST WEEK I asked 10 operators to luote me the prices they would expect to lay, before discount, for a number of tems which are in daily use on their iehicles or in their workshops. In most :tases they would have made their last 3urchases of these items in the past two years.
In not one case was I given today's prices for each of the items and the nearest anyone was to within 10 per cent on one item on the list. The operators were all responsible and, so far as I can tell, successful men with mixed fleets containing light vans, medium trucks and maximum-capacity artics. For the purposes of the exercise, I asked them to answer from memory without reference to catalogues, price lists or invoices.
The list of questions is printed here in a separate panel. Working under the same conditions and without reference to the rest of this article, you might like to test your knowledge of how inflation has affected your business in the last year.
Profit margin
Inflation, like crisis, has become a very much overworked word, in our vocabulary and consequently we have come to accept that it is an inevitable part of life about which we can do very little. As private citizens this may be the case but as transport operators we can take account of it before it happens and avoid financial difficulties. Most operators build their rates on the preceding year's costs and, as we shall see, the difference between last year and this year can be so great that the profit margin disappears like exhaust gases into the atmosphere unless the rate carries a built-in inflation.
Under the bonnet
Starting under the bonnet, in 1972 a battery for a light van cost £12.50, a year later it had risen a modest £1.10. Within nine months it had jumped from £13.60 to £17.65. A medium truck battery in August 1972 was £16.95, a year later £18.50 — today's best price is £24.20. A maximum capacity artic battery cost £35.20 in 1972, there was an increase to £38.45 the following year. But today it is at least £50.40.
The increase since last year is around 33IA per cent but since batteries now have an expected life of three years, the increase since an operator purchased his last battery three years ago could be as much as 40 per cent.
Tyres have also shown quite a remarkable price increase. Over the past 10 years, the increase has been in the order of 100 per cent. During the past year, which saw three increases, it has been around 331/2 per cent. For example, in 1973 a 900 x 20 cost £50.80 whereas today it is £65.40. A D20 costs £75.30 today, but in 1973 it was 158.50. A 650 x 16 which is now £23.70 was £18.40 one year ago.
Worse to come
These increases are considerable, but there is worse to come. Standing in the corner of your workshop there is no doubt a 28 lb keg of multi-purpose grease. If you bought, that last year, it cost about £3.30; the same quality today is running at £4.20, an increase of 331/2 per cent. A five-gallon drum of diesel engine oil which was costing around 60p per gallon last year is now costing 89.5p per gallon. Again a 331/2 per cent increase. The most recent fuel increases are of too recent, vivid and painful memory to need any reminder from me.
When, I wonder, did you last have to buy a tarpaulin? I'm told by tarpaulin manufacturers that they are normally renewed every two years. For those who haven't purchased One in the last six months, there is a shock in store. Between 1964 and 1973, a 27ft by 21 ft 15 oz cotton-duck cover rose by £3.50 from £38.00 to £41.50. Today the same cover costs £85.00. An increase of just over 100 per cent. A 45ft by 10 ft pvci nylon fly-sheet was £32.00 in 1964 and remained the same until 1973. From the beginning of this year the price jumped from £32 to £52. These prices