iodium sulphur batteries tin future electrics
28th June 1974
Page 29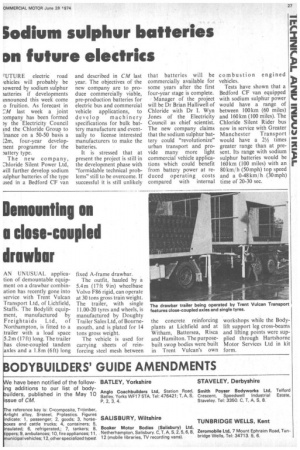 Page 29, 28th June 1974 —
iodium sulphur batteries tin future electrics
Close
UTURE electric road iehicles will probably be rowered by sodium sulphur ratteries if developments innounced this week come o fruition. As forecast in M last week a joint :ompany has been formed )y the Electricity Council rnd the Chloride Group to inance on a 50-50 basis a :2m, four-year develop'Trent programme for the )attery type.
The new company, 2hloride Silent Power Ltd, Nih further develop sodium iulphur batteries of the type used in a Bedford CF van and described in CM last year. The objectives of the new company are to produce commercially viable, pre-production batteries for electric bus and commercial vehicle applications, to develop machinery specifications for bulk battery manufacture and eventually to license interested manufacturers to make the batteries.
It is stressed that at present the project is still in the development phase with "formidable technical problems" still to be overcome. If successful it is still unlikely that batteries will be commercially available for some years after the first four-year stage is complete.
Manager of the project will be Dr Brian Halliwell of Chloride with Dr I. Wyn Jones of the Electricity Council as chief scientist. The new company claims that the sodium sulphur battery could "revolutionize" urban transport and provide many more light commercial vehicle applications which could benefit from battery power at reduced operating costs compared with internal combustion engined vehicles.
Tests have shown that a Bedford CE van equipped with sodium sulphur power would have a range of between 100 km (60 miles) and 160 km (100 miles). The Chloride Silent Rider bus now in service with Greater Manchester Transport would have a 21/2 times greater range than at present. Its range with sodium sulphur batteries would be 160 km (100 miles) with an 80 km/ h (50 mph) top speed and a 0-48 km/ h (30 mph) time of 20-30 sec.