Demounting on o close-coupled drawbar
28th June 1974
Page 29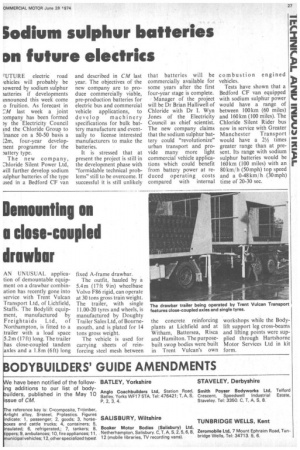 Page 29, 28th June 1974 —
Demounting on o close-coupled drawbar
Close
AN UNUSUAL application of demountable equipment on a drawbar combination has recently gone into service with Trent Vulcan Transport Ltd, of Lichfield, Staffs. The Bodylift equipment, manufactured by Freightaids Ltd, of Northampton, is fitted to a trailer with a load space 5.2m (17 ft) long. The trailer has close-coupled tandem axles and a 1.8 m (6 ft) long fixed A-frame drawbar.
The outfit, hauled by a 5,4m (17 ft 9 in) wheelbase Volvo F86 rigid, can operate at 30 tons gross train weight. The trailer, with single 11.00-20 tyres and wheels, is manufactured by Doughty Trailer Sales Ltd, of Bournemouth, and is plated for 14 tons gross weight.
The vehicle is used for carrying sheets of reinforcing steel mesh between the concrete reinforcing plants at Lichfield and at Witham, Battersea, Risca and Hamilton. The purposebuilt swop bodies were built in Trent Vulcan's own workshops while the Bodylift support leg cross-beams and lifting points were supplied through Hartshorne Motor Services Ltd in kit form.