Norfolk haulier's fleet curtailed
28th June 1974
Page 22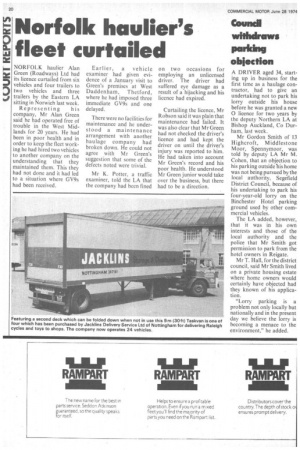 Page 22, 28th June 1974 —
Norfolk haulier's fleet curtailed
Close
NORFOLK haulier Alan Green (Roadways) Ltd had its licence curtailed from six vehicles and four trailers to two vehicles and three trailers by the Eastern LA sitting in Norwich last week.
Representing his company, Mr Alan Green said he had operated free of trouble in the West Midlands for 20 years. He had been in poor health and in order to keep the fleet working he had hired two vehicles to another company on the understanding that they maintained them. This they had not done and it had led to a situation where GV9s had been received. Earlier, a vehicle examiner had given evidence of a January visit to Green's premises at West Daddenham, Thetford, where he had imposed three immediate GV9s and one delayed.
There were no facilities for maintenance and he understood a maintenance arrangement with another haulage company had broken down. He could not agree with Mr Green's suggestion that some of the defects noted were trivial.
Mr K. Potter, a traffic examiner, told the LA that the company had been fined on two occasions for employing an unlicensed driver. The driver had suffered eye damage as a result of a hijacking and his licence had expired.
Curtailing the licence, Mr Robson said it was plain that maintenance had failed. It was also clear that Mr Green had not checked the driver's licence and had kept the driver on until the driver's injury was reported to him. He had taken into account Mr Green's record and his poor health. He understood Mr Green junior would take over the business, but there had to be a direction.