Council withdraws parking objection
28th June 1974
Page 22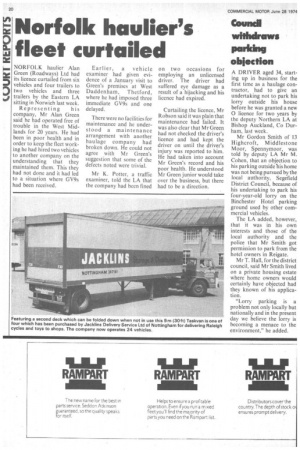 Page 22, 28th June 1974 —
Council withdraws parking objection
Close
A DRIVER aged 34, starting up in business for the first time as a haulage contractor, had to give an undertaking not to park his lorry outside his house before he was granted a new 0 licence for two years by the deputy Northern LA at Bishop Auckland, Co Durham, last week.
Mr Gordon Smith of 13 Highcroft, Middlestone Moor, Spennymoor, was told by deputy LA Mr M. Cohen, that an objection to his parking outside his home was not being pursued by the local authority, Segefield District Council, because of his undertaking to park his four-year-old lorry on the Binchester Hotel parking ground used by other commercial vehicles.
The LA added, however, that it was in his own interests and those of the local authority and the police that Mr Smith got permission to park from the hotel owners in Reigate.
Mr T. Hall, for the district council, said Mr Smith lived on a private housing estate where home owners would certainly have objected had they known of his application.
"Lorry parking is a problem not only locally but nationally and in the present day we believe the lorry is becoming a menace to the environment," he added.