European Ministers agree on speed limit
28th June 1974
Page 20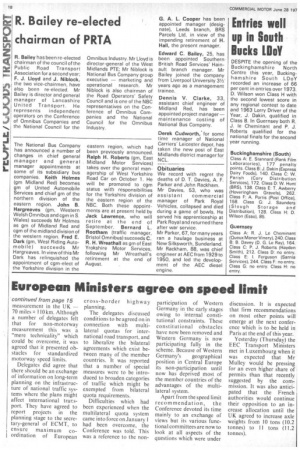 Page 20, 28th June 1974 —
European Ministers agree on speed limit
Close
'continued from page 15 measurement in the UK — 70 miles = 110 km. Although a number of delegates felt that for non-motorway measurement this was a "mere technicality" which could be overcome, it was agreed that it presented obstacles for standardized motorway speed limits.
Delegates did agree that there should be an exchange of information on long-term planning on the infrastructure of national traffic systems where the plans might affect international transport. They have agreed to report projects in the planning stage to the secretary-general of ECMT, to ensure maximum coordination of European cross-border highway planning.
The delegates discussed conditions to be agreed on in connection with multilateral quotas for international road transport, and to liberalize the bilateral agreements which exist between many of the member countries. It was reported that a number of special measures were to be introduced to broaden categories of traffic which might be exempted from bilateral quota requirements.
Difficulties which had been experienced when the multilateral quota system came into force on January I had been overcome, the Conference was told. This was a reference to the non
participation of Western Germany in the early stages owing to internal constitutional constraints. These constitutional obstacles have now been removed and Western Germany is now participating fully in the scheme. Because of Western Germany's geographical position in Central Europe its non-participation until now has deprived most of the member countries of the advantages of the multilateral system.
Apart from the speed limit recommendation, the Conference devoted its time mainly to an exchange of views but its various functional committees are now to look at all aspects of the questions which were under discussion. It is expected that firm recommendations on most other points will emerge at the next conference which is to be held in Paris at the end of this year.
Yesterday (Thursday) the EEC Transport Ministers met in Luxembourg when it was expected that Mr Mulley would be pressing for an even higher share of permits than that recently suggested by the commission. It was also anticipated that the French authorities would continue their opposition to an increase allocation until the UK agreed to increase axle weights from 10 tons (10.2 tonnes) to 11 tons (11.2 tonnes).