Inflation's cold breath
28th June 1974
Page 17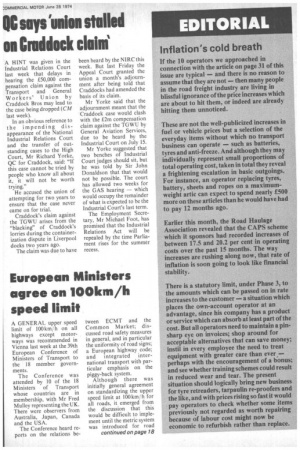 Page 17, 28th June 1974 —
Inflation's cold breath
Close
If the 10 operators we approached in connection with the article on page 31 of this issue are typical — and there is no reason to assume that they are not -then many people in the road freight industry are living in blissful ignorance of the price increases which are about to hit them, or indeed are already hitting them unnoticed.
These are not the well-publicized increases in fuel or vehicle prices but a selection of the everyday items without which no transport business can operate — such as batteries, tyres and anti-freeze. And although they may indiNidually represent small proportions of total operating cost, taken in total they reveal a frightening escalation in basic outgoings. For instance, an operator replacing tyres, battery, sheets and ropes on a maximumweight artic can expect to spend nearly £500 more on these articles than he would have had to pay 12 months ago.
Earlier this month, the Road Haulage Association revealed that the CAPS scheme which it sponsors had recorded increases of between 17.5 and 20/ per cent in operating costs over the past 15 months. The way increases are rushing along now, that rate of inflation is soon going to look like financial stability.
There is a statutory limit, under Phase 3, to the amounts which can be passed on in rate increases to the customer — a situation which places the own-account operator at an advantage, since his company has a product or service which can absorb at least part of the cost. But all operators need to maintain a pin sharp eye on invoices; shop around for acceptable alternatives that can save money; instil in every employee the need to treat equipment with greater care than ever— perhaps with the encouragement of a bonus; and see whether training schemes could result in reduced wear and tear. The present situation should logically bring new business for tyre retreaders, tarpaulin re-proofers and the like, and with prices rising so fast it would pay operators to check whether some items previously not regarded as worth repairing because of labour cost might now be economic to refurbish rather than replace.