IC says 'union stalled on Craddock claim'
28th June 1974
Page 17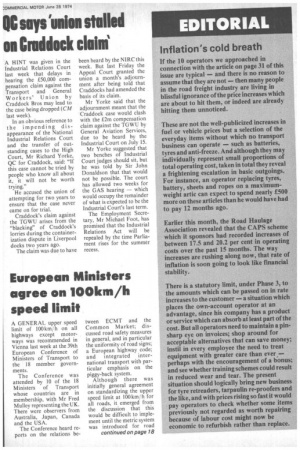 Page 17, 28th June 1974 —
IC says 'union stalled on Craddock claim'
Close
A HINT was given in the Industrial Relations Court last week that delays in hearing the £50,000 compensation claim against the Transport and General Workers' Union by Craddock Bros may lead to the case being dropped (CM last week).
In an obvious reference to the impending disappearance of the National Industrial Relations Court and the transfer of outstanding cases to the High Court, Mr Richard Yorke, QC for Craddock, said: "If this case cannot be tried by people who know all about it, it will not be worth trying."
He accused the union of attempting for two years to ensure that the case never came on for trial.
Craddock's claim against the TGWU arises from the "blacking" of Craddock's lorries during the containerization dispute in Liverpool docks two years ago.
The claim was due to have been heard by the NIRC this week. But last Friday the Appeal Court granted the union a month's adjournment after being told that Craddocks had amended the basis of its claim.
Mr Yorke said that the adjournment meant that the Craddock case would clash with the Um compensation claim against the TGWU by General Aviation Services, due to be heard by the Industrial Court on July 15.
Mr Yorke suggested that two benches of Industrial Court judges should sit, but he was told by Sir John Donaldson that that would not be possible. The court has allowed two weeks for the GAS hearing — which would occupy the remainder of what is expected to be the Industrial Court's last term.
The Employment Secretary, Mr Michael Foot, has promised that the Industrial Relations Act will be repealed by the time Parliament rises for the summer recess.