RAILWAYS DO NOT RECIPROCATE.
28th January 1938
Page 7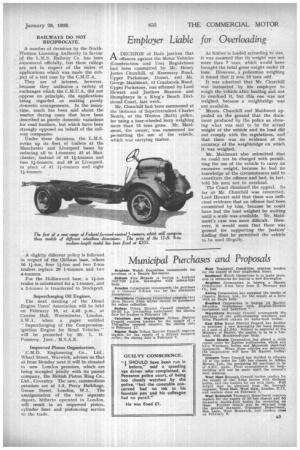 Page 7, 28th January 1938 —
RAILWAYS DO NOT RECIPROCATE.
Close
Keywords :
A number of decisions by the NorthWestern Licensing Authority in favour of the L.M.S. Railway Co. has been announced officially, but these rulings are not in respect of the series of applications which was made the sub, ject of a test case by the C.M.U.A, • They are of interest, however,
• because they authorize a variety of exchanges which the C.IvI.U.A. did not oppose on principle, the applications being regarded as making purely ,domestic arrangements. In the meantime, much has been said about the matter during cases that have been .described as purely domestic variations for road hauliers, but which have been strongly opposed on behalf of the railway companies.
. Under these decisions, the L.M.S. evens up its fleet of trailers at the Manchester and Liverpool bases by reducing all to 1-tonners; 45 at Manchester, instead of 43 14-tonners and two 11-tonners, and 49 at Liverpool, in place of 41 11-tormers and eight li-tonners
• A slightly different policy is followed in respect of the Oldham base, where 16 11-ton, four 11-ton and two 2-ton trailers replace 20 1-tonners and two 4-tonners.
For the Hollinwood base, a 1k-ton trailer is substituted for a 1-tonner, and a 2-tonner is transferred to Stockport.
Supercharging Oil Engines.
The next meeting of the Diesel Engine Users' Association will be held on February 10, at 4.45 p.m" at Caxton Hall, Westminster, London, S.W.1, •when a paper entitled " Supercharging of the Compressionignition Engine for Road Vehicles " will be presented by Mr. L. H. Pomeroy, Junr., M.S.A.E.
Improved Piston Organization.
• C.M.D. Engineering Co., Ltd., Wharf Street, Warwick, advises us that as from Monday next it will be situated in new London premises, which are being occupied jointly with its parent company, the British Piston Ring Co., Ltd., Coventry The new, commodious premises are at 1-3, Percy Buildings, Gresse Street, London, W.1. The amalgamation of the two separate depots, hitherto operated in London, will result in ark improved piston, cylinder liner and piston-ring service to the trade.