"S.T.R. Only Reliable Rates Authority"
28th January 1938
Page 6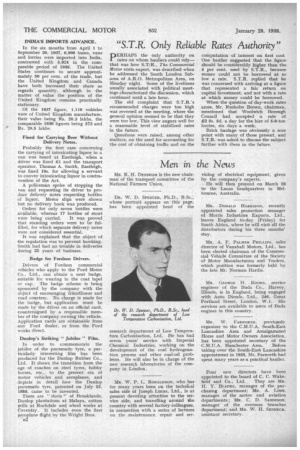 Page 6, 28th January 1938 —
"S.T.R. Only Reliable Rates Authority"
Close
1INERHAPS the only authority on rates on whom hauliers could rely— that was how S.T:R" The Commercial Motor costs expert, was described when he addressed the South London Subarea of A.R.O. Metropolitan Area, on Monday night. Some of the liveliness usually associated with political meetings characterized the discussion, which continued until a late hour.
The old complaint that S.T.R. '5 recommended charges were too high was reversed at the meeting, where the general opinion seemed to be that they were too low. This view augurs well for a reasonable level of stabilized rates in the future.
Questions were raised, among other matters, on the need for accounting for the cost of obtaining traffic and on the
computation of interest on first cost One haulier suggested that the figure should be considerably higher than the 4 per cent, used by S.T.R., because money could not be borrowed at so low a rate. S.T.R. replied that he was concerned with arriving at a figure that represented a fair return on -capital investment, and not with a rate at which money could be borrowed.
When the question of day-work rates arose, Mr. Rusholm Brown, chairman, mentioned that Woolwich Borough Council had accepted a rate of £.2 5s. 5d. a day for the hire of 5-6-ton lorries, six days a week.
Brick haulage was obviously a sore point with many of those present, and S.T.R. was asked to discuss the subject further with them in the future.