MAY C-LICENSEE CARRY GOODS FREE?
28th January 1938
Page 5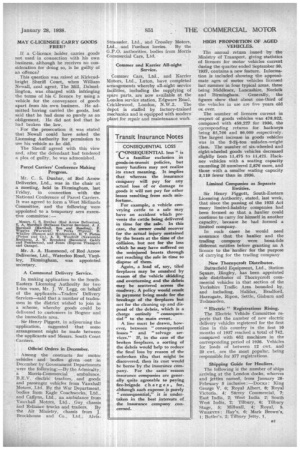 Page 5, 28th January 1938 —
MAY C-LICENSEE CARRY GOODS FREE?
Close
If a C-licence. holder carries goods not used in connection with his own business, although he receives no consideration for doing so, is he guilty of an offence?
This question was raised at Kirkcudbright Sheriff Court, when William Newall, coal agent, The Mill, Da!meilington, was charged with infringing the terms of his C licence by using a vehicle for the conveyance of goods apart from his own business. He admitted having carried the goods, but said that he had done so purely as an obligement. Ile did not feel that he had broken the, law.
• For the prosecution it was stated that Newell could have asked the Licensing Authority for permission to use his vehicle as he did.
The Sheriff • agreed with this view and, after the defendant had tendered a plea of guilty, lie was admonished.
Parcel Carriers' Conference Making Progress.
Mr. C. S. Dunbar, of Red Arrow Deliveries, Ltd., was in the chair at a meeting, held in Birmingham, last Friday, in connection with the National Conference of Parcel Carriers. It was agreed to form a West Midlands Committee, and the following were appointed to a temporary area executive committee :—
Messrs. C.. S. Dunbar (Red Arrow Deliveries), E. A. Marshall (Reliance Carrier Services), J. J. Marshall (Marshal), Boa and Reading), F. Wiggins (Warwick), T. Perim (Tipton), D. Whalley (Hanson and Holdsworth), H. T. Picton (Pieton and Co.), A. R. Woodroff (Newcombe lleathers), J. W. Derssford Derealord, Caddy and Ptrobertati), and Jones ( Transport. and Garage).
Mr. A. A. Hammond, of Red Arrow Deliveries, Ltd., Waterloo Road, Yargley. Birmingham, was appointed ••secrietiEry.
A Communal Delivery Service.
In making application to the SouthEastern Licensing Authority for two 1-ton vans, Mr. J. W. Legg, on behalf of the applicants—Traders' Delivery Services—said that a number of tradesmen in the district wished to join in a scheme, whereby goods could be delivered to customers in Bognor and the immediate area.
• " Sir Henry Piggott, in adjourning the application, suggested that some arrangement might be made between . the applicants and Messrs. South Coast • Carriers.
Official Orders in Decembor.
• Among the contracts for motor .vehicles and bodies given -out in December by Government Departments were the following:—By the Admiralty, a Morris-Commercial ambulance, " B.E.V. electric tractors, and goods and passenger vehicles from Vauxhall "Motors, Ltd. By the War Department, bodies from Eagle Coachworks, Ltd., and Caffyns,. Ltd., an ambulance from Vauxhall Motors, Ltd., Guy chassis and Reliance trucks and trailers. By the Air • Ministry, chassis from J. Brockhouse and Co., Ltd., Alvis Stra.ussler, Ltd., and Crossley Motors, Ltd., and fordson lorries. By the G.P.O. authorities, bodies from Morris Commercial Cars, Ltd.
Commer and Kart-jar All-night Service.
Comnier Cars, Ltd., and Harrier Motors, Ltd., Luton, have completed arrangements whereby all-night service facilities, including the supplying of spare parts, are now available at the London service station, Edgware Road, Cricklewood, London, N.W,2. The depot is staffed by factory-trained mechanics and is equipped with modern plant for repair and maintenance work