HIGH PROPORTION OF AGED VEHICLES.
28th January 1938
Page 5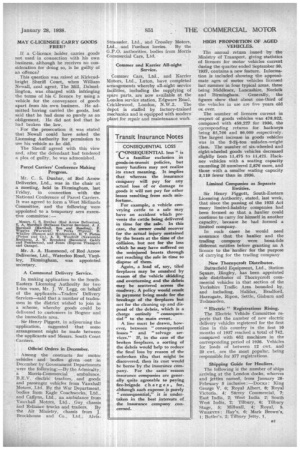 Page 5, 28th January 1938 —
HIGH PROPORTION OF AGED VEHICLES.
Close
The annual return issued by the Ministry of Transport, giving statistics of licences for motor vehicles current during the quarter ended September 30, -1937, contains a new feature. Information is included showing the approximate ages of motor vehicles licensed last summer in four typical areas, these being Middlesex, Lancashire, Norfolk and Birmingham. Generally, the figures show that about one-third of the vehicles in use are five years old Or over.
The number of licences current in . respect of goods vehicles was 478,922, compared with 459,227 for 1936, the corresponding returns for hackneys being 85,766 and 86,009 respectively. The largest increase in goods vehicles was in the 2-21-ton unladen-weight class, The number of six-wheeled and eight-wheeled goods vehicles decreased slightly from 11,475 to /1,421. Hackney vehicles with a seating capacity exceeding 26 numbered 2,876 more, and those with a smaller seating capacity 3,119 fewer than in 1936.
Limited Companies as Separate • Entities.
Sir Henry Piggott. South-Eastern Licensing Authority, stated, last week, that since the passing of the 1933 Act many limited-liability companies had been formed so that a haulier could continue to carry for himself in another capacity, because he had formed a limited company.
In such cases he would need assurance that the haulier and the trading company were bona-fide different entities before granting an A licence to the haulier for the purpose of carrying for the trading company New Thornycroft Distributor.
Butterfield Equipment, Ltd., Station Square, Bingley, has been appointed sole distributor of Thornycroft commercial vehicles in that section of the Yorkshire Traffic Area bounded by, and including, Halifax, Bradford, thu-rogate, Ripon, Settle, Gisburn and Todmorden.
" Electric " Registrations Rising.
The Electric Vehicle Committee reports that the number of new electric delivery vehicles registered for the first time in this country in the first 10 months of 1937 reached a total of 742, compared with 652 machines in the corresponding period 01 1936. Vehicles for loads of between 12 cwt. and 20 cwt, are the most popular, being responsible for 377 registrations.
Shipping Guide for Hauliers.
The following is the number of ships arriving at the London docks, wharves and jetties named, from January 28February 5 inclusive :—Docks King George V, 6; Royal Albert, 8; Royal Victoria, 4; Surrey Commercial, 7; East India, 2; West India 2; South West India, 2; Tilbury. 6; Tilbury Stage, 5; Millwall, 4; Royal, a. WHARVES: Hay's, 6; Mark Brown's, 1; Butler's, 2; Tilbury Jetty, 1.