Giant Garage and Drivers' Hostel Opened
28th January 1938
Page 30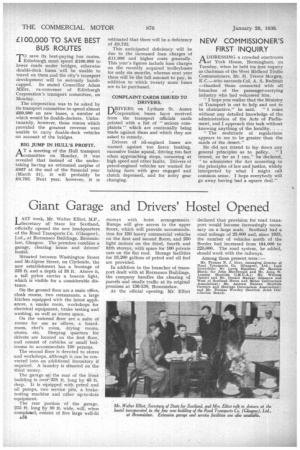 Page 30, 28th January 1938 —
Giant Garage and Drivers' Hostel Opened
Close
LAST week, Mr. Walter Elliot, M.P., Secretary of State for Scotland, officially opened the new headquarters of the Road Transports Co. (Glasgow), Ltd., at Rotransco Buildings, Broomielaw, Glasgow. The premises combine a garage, clearing house and drivers' hostel.
Situated between Washington Street and McAlpine Street, on Clydeside, the new establishment has a frontage of 228 ft. and a depth of 38 ft. Above it, a tall pylon carries a beacon light, which is visible for a considerable distance.
On the ground floor are a main office, cloak rooms, two restaurants, a large kitchen equipped with the latest appliances, a smoke room, workshops for electrical equipment, brake testing and washing, as well as stores space.
On the entresol floor are a suite of rooms for use as offices, a boardroom, chef's room, drying rooms, stores, etc. Sleeping quarters for drivets are located on the first floor, and consist of cubicles or small bedrooms to accommodate 150 persons.
The second floor is devoted to stores and workshops, although it can be converted into an additional dormitory if required. A laundry is situated on the third storey.
The garage at the rear of the front' building is ovef 228 ft. long by 45 ft. deep. It is equipped with petrol and oil pumps, two service pits, a braketesting machine and other up-to-date equipment.
The rear portion of the garage, 233 ft. long by 80 ft. wide, will, when completed, consist of five large well-lit A34 storeys with hoist arrangements. Ramps will give access to the upper floors, which will provide accommodation for 150 heavy commercial vehicles on the first and second floors, and 250 light motors on the third, fourth and fifth storeys, with space for 160 private cars on the fiat roof. Storage facilities for 16,200 gallons of petrol and oil fuel are provided.
In addition to the branches of transport dealt with at Rotransco Buildings, the company handles the clearing of parcels and smalls traffic at its original premises at 136-138, Broomielaw.
At the official opening, Mr: Elliot declared that provision for road transport would become increasingly necessary on a large scale. Scotland had a road mileage of 25,000 and, since 1933, the number of vehicles north of the Border had increased from 184,000 to 225,000. The road system, he added, should work with the railways.
Among those present were:—
Mr. Thomas N..1. Gray, managing director ot Road Transports Co. (Glasgow), Ltd.; Lord Inverciyde; Sir Lewis Sbedden; Sir Maurice Bloch; Sir John MacDonald and Mr. John W. Loudon (Scottish C.M.U.A.); Mr. William Dalziel and Mr. Donald Mackay (Glasgow and West of Scotland Horse and Motor Contractors Association); Mr. Andrew Duncan (Scottish Carriers and Haulage Contractors Association); and Mr. Thomas Worsley (Scottish Joint Conciliation Board).